RE-CAP: WHAT IS B CORP?
B Corp is to business what Fairtrade is to coffee, or what Certified Organic is to Coconut Milk! B Corporations are for-profit companies that have been certified to meet the highest standards of social and environmental performance, accountability and transparency. Honest to Goodness has been a Certified B Corp since 2015 and joins 2,000+ businesses across the world in over 130 industries, who together lead the global movement of people using business as a force for good.
HOW DO YOU GET CERTIFIED?
To certify as a B Corporation, a business is required to complete the rigorous B Impact Assessment, (which is evaluated by the non-profit B Lab) and achieve a minimum score of 80. This assessment must then be completed every two years to maintain certification.
WHY DID WE BECOME A B CORP?
B Corporation certification was an important step for Honest to Goodness as an official way to showcase our real commitment to operating a sustainable and ethical business. It also gives us the opportunity to align with like-minded companies who share thoughts and ideas on how to do business better.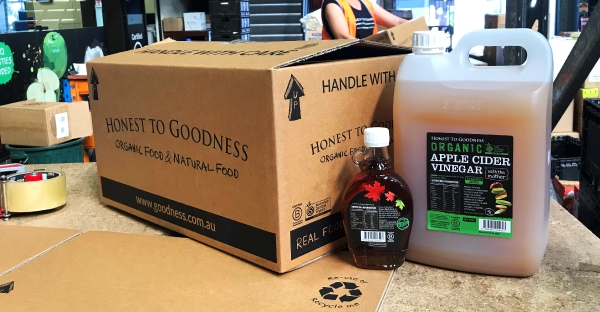 RE-CERTIFICATION IN 2017
2017 has proved to be a big year for us as we extended our commitment to B Corp through our first recertification in May and managed to improve our overall B Impact score to 89.7! This improvement bumped us into the top 10% of all B Corps who are making positive impact and behaviour change, and therefore had us honoured in the Best for the World: Changemakers list for 2017.
We are extremely proud of our improvements as a B Corp leader, however our ongoing focus is not necessarily to gain more points on paper. We feel our focus and duty as a Certified B Corp lies simply in always making conscious business decisions, no matter how big or small.
PUTTING COMMITMENT TO ACTION
Our operational choices are vital to ensure we are staying true to our commitments. Whether big or small, our actions are considered and include:
Sourcing and supplying high quality, certified organic and non-GMO food
Ensuring our products are from sustainable, ethical growers and suppliers
Ensuring no harmful chemicals are being used in production of products
Promoting bulk foods to minimise waste and encourage community buying
Ensuring recycled, renewable materials are used in our product & corporate office materials
Encouraging a vibrant work environment through regular team celebrations and recognition
Contributing to local community initiatives
Trading as an equal opportunity, non-discriminatory business
Switching the business renewable energy supply
Installing energy efficient equipment in the business
Installing low flow faucets, taps, toilets in the company office
Read more about our sustainability efforts here >>

Being a sustainable business is an ongoing project, and we know that if we let our values drive our choices we will continue to make a positive impact on both people and the planet!