What is B Corp Month?
Every year, B Corp organisations around the world come together to raise awareness on what it means to be a B Corp and to highlight the achievements of building business as a force for good.
This year's theme is Behind the B. Giving us the chance to take you behind the scenes of Honest to Goodness and help talk about what it means to us to be a B Corp. We recertified last July, our 3rd since becoming a B Corp organisation in 2015.
For the month of March we will be participating in "Behind The B", showcasing what makes our business better for people and the planet. Along with fantastic other organisations we will be throwing open our doors and showing the world the amazing things B Corps are doing for our communities, workers, customers and the planet.
---
Why is it important to us?
Certified B Corporations® (B Corps™) are for-profit companies that use the power of business to build a more inclusive and sustainable economy. They meet the highest verified standards of social and environmental performance, transparency, and accountability.
We are proud to be a part of a global movement of 4,200 B Corps in 76 countries and 150+ Industries, who are all trying to actively make the world a better place through the way they treat their staff; help the community; are governed; improve the environment; and make customers' lives better. We have voluntarily put our hand up to be held to the highest standards of transparency and accountability where these areas are concerned. Check out our Impact Scorecard here >>
As Certified B Corporations and leaders of this emerging economy, we believe:
That we must be the change we seek in the world.
That all business ought to be conducted as if people and place mattered.
That, through their products, practices, and profits, businesses should aspire to do no harm and benefit all.
To do so requires that we act with the understanding that we are each dependent upon another and thus responsible for each other and future generations.
We love that B Corp gives us a holistic framework to look at sustainability in all areas of our business - customers, employees, product, suppliers and our production and manufacturing practices.
---
5 things you may not have known about us: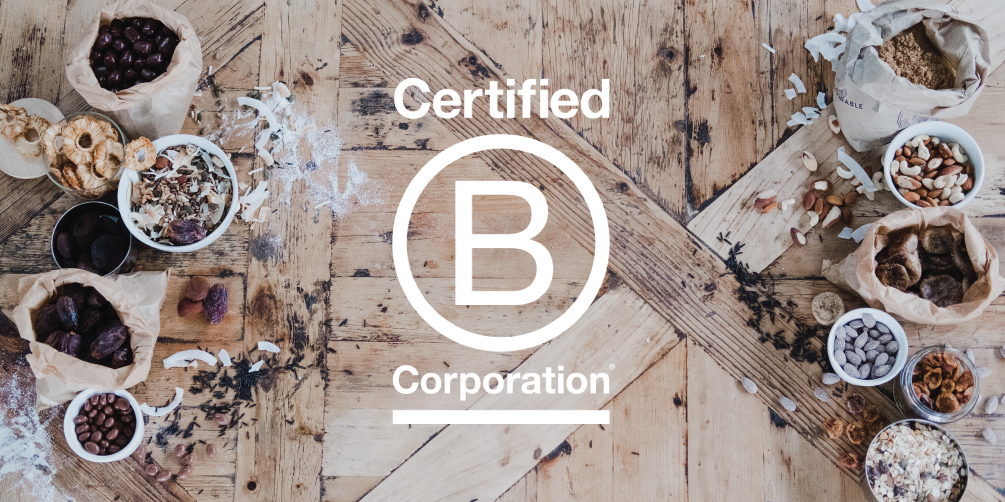 1. Buying Groups
A buying group is a community of people who get together to combine their buying power for good. Various forms of buying groups exist, ranging from a small group of family and friends to larger buying groups that are run by members to support regional communities.
Honest to Goodness started with a vision of connecting consumers to producers with demand driven by quality, taste & fairness. Our loyal following of buying groups & long-term customers embody this, we call them our hardcore customers as they lead the charge in demanding high quality, wholesome, tasty food & packaging reduction, making the sacrifices required to live a more healthy & sustainable lifestyle.
Learn more about our buying groups here >>
2. Retail Store - Bulk Bins
We opt for bulk product options first. By 2021, bulk products account for nearly half (44%) of total floorspace in the form of fill-your-own bulk bins, flours packed in resealable and recyclable paper, liquids in reusable containers and products in bulk (4KG and greater).
3. Impact Report
Last May we published our first Impact Report >>
This was a goal of the team to write up all of our achievements and initiatives in the sustainability space and share them with our customers. It was a great way to reflect on work that's been done, celebrate some of our long-term supplier relationships and also plan for areas of improvement for future.
We plan to continue publishing an impact report each year. We always welcome feedback or ideas on how we can improve in this space!
4. NetZero 2020
Here at Honest to Goodness, we are serious about sustainability. One of our core values is our commitment to our collective social & environmental responsibility. In late 2019, we joined the pledge to achieve Net Zero Emissions by 2030. We are working with local experts to ensure we properly set our baseline and then actively reduce all emissions by this date. This includes self-reporting our performance annually. You can learn more about our Net Zero journey here >>
5. Genuine Supplier Relationships
We choose to work directly with suppliers and partners who share our values. We believe this facilitates transparency and like the accountability of a short-supply chain. Working with our suppliers in this way ensures we receive a consistent high quality product. That is why the average supplier relationship is over 5 years and continues to grow.
All of our suppliers:
Have active OH&S practices in place to prevent staff from injury
Have a Reporting Policy in place to ensure grievances could be made confidentially
are pursuing packaging solutions which would reduce their environmental impact.
are actively working to reduce waste and improve water and energy efficiencies.
Suppliers were using some form of renewable energy, the lowest being 25% and the highest 65%