2021 has been an exceptional year in many ways. What we do know is that this festive season has grown in importance, as many of us look to take real time out to relax, recharge - and gather together. The last few months have disrupted traditional rhythms for even the most seasoned seasonal 'prepper', so at Honest to Goodness, we've put much thought into helping our existing and new customers to start prep well in advance, so festive time out focuses on spending time together, and not rushing around.
On a practical note, we take exceptional care to source, make and stock the best products from Australia and around the world, and would encourage to to stock up early on your seasonal, party and holiday essentials. This has been a notable year, where some delays in getting new stock are out of our control. We don't want you disappointed.
We're mindful to help take the hassle out of your seasonal prep hustle and bustle, starting with:
---
Step 1. Prep your Pantry
Don't get caught out running out of essentials! Here's a great checklist so you're pantry-prepped, whether you're hosting the entire get-together, or invited as a 'bring-a-plate' guest. As an option, print the list now, check off against your pantry for what you need (and please make sure to get your order in early, as stocks cannot be guaranteed on our most popular seasonal pantry items).
---

1. Seasonal spices
Holidays are often the time we use copious spice quantities. Spices don't stay fresh forever. Check best before dates and update, remembering spices we carefully select for their quality, plus freshness, equals great flavour. Check our list for must-have spices for holiday and seasonal baking by all ages, baked for get-togethers and as giftable treats
---

2. Go Nuts for nuts!
From Christmas Day stuffing to adorning platters to that perfect snack with drinks, we're nuts about great quality nuts. You can really taste the difference, and 'activated' or 'insecticide free' nuts come loaded with beneficial nutrients.
---
3. Elevating your baking
A no-no is to run low on your must-have baking staples. Kids (of all ages) love to make and bake together; lifetime seasonal memories are made of these moments, and quality ingredients make all the difference. From aluminium free baking powder to organic cocoa, prep to be festive pantry 'bake ready' (plus, these offer great stock-up-early giftables for baking-loving family, friends and neighbours).
Shop baking, flours & sweeteners >>
---

4. Dried fruits
A seasonal staple, we have the traditional dried fruit mix through to Aussie grown dried fruits, to offer up a tasty and novel twist on the festive season, for recipes or sweet to savoury platters
---

5. Main grains and pulses
Definite pantry staples, these bestsellers add interest to leftovers and make quick, nutritious meals
---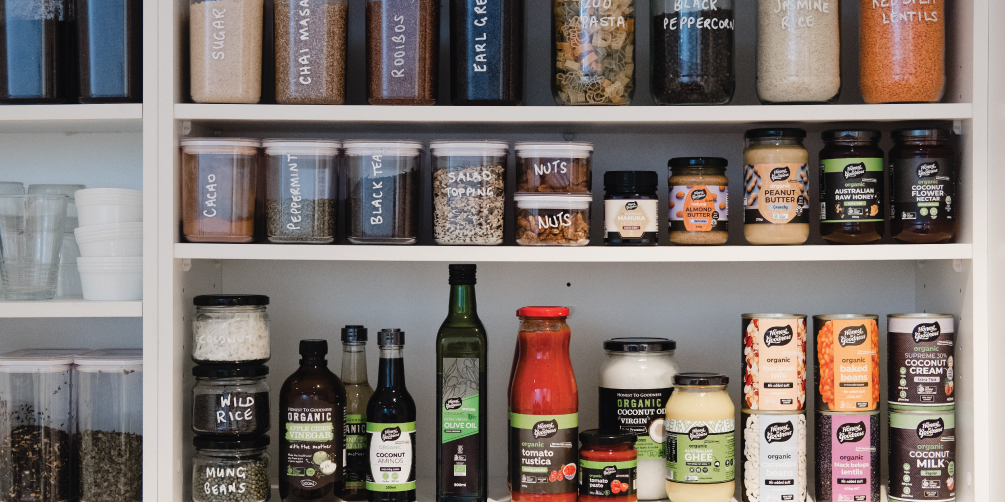 6. Some 'best of our rest'
Discover some new goodies and familiar items - all with our promise of 'no nasties'.
Get inspired with our Prep your Pantry checklist!

---
Coming soon:
Stayed tuned as we bring you ideas via our blog for:
Step 2. Prep your Presents (DIY and highly cost effective 'heartmade' gifting for all ages to make)
Step 3. Prep your Platters - delicious platters that are guaranteed crowd pleasers, designed so you don't get caught out with unknown dietary requirements (these are so tasty, that they will please all palettes).
---

LATEST BLOGS
30th Nov 2021
For the first time ever, Honest to Goodness will be launching 12 days of giveaways over Christ …
29th Nov 2021
Planning a festive feast? Find inspiration with this list of 21 scrumptious holiday recipes that …
24th Nov 2021
In recent times, there's a rising backlash globally against 'Black Friday' sales by people concer …