In the last four weeks, due to COVID-19, we have seen a huge surge in demand which inevitably means you're seeing more out of stocks and longer wait times for deliveries. The current delay for dispatching orders is unfortunately 7-14 days. Please feel rest assured, that despite these delays, we are doing everything possible to ensure every order is delivered.
As we are an essential business, we will remain open and delivering even as tighter restrictions are put in place.
We know times are scary, frustrating and unknown, so we would like to say a sincere thank you for your continued patience, support and understanding while we work through this together.
Because our customer support team is now working from home and are unable to answer phone calls, we have put together a list of FAQs which may help to answer your questions quickly.
---
Are you still open?
Yes! We are open and trading as usual however you may experience some delays.
We are considered an essential service and will be open as usual. Some of the team are working remotely.
Are you still at the markets?
In the interest of the health & safety of our team, we have temporarily suspended our weekly market stall at Warriewood & Orange Grove Organic Markets. Our Alexandria store is still open Mon-Sat.
Why can I not pick up my order from your warehouse anymore?
In the interest of the health & safety of our team and to ensure couriers can pick up orders with ease, we have temporarily suspended the option to pick up orders from our warehouse.
Please refer to our Shipping & Delivery page for other delivery alternatives.
Can I add or remove an item from my order once it has been submitted?
As we are experiencing a significant increase in order volume, to maintain momentum and get orders out the door quickly, we are unable to process additions or remove items at this time. Please take the time to ensure your order is correct before submitting.
I live interstate, will I be able to get my order with state borders closed?
On Sunday 22nd March it was announced that many states will be closing down many non-essential services over the following 48 hours. The most recent advise we have received is that supermarkets, freight and logistics and home delivery services are among those deemed as "essential" therefore orders will still be allowed to be freighted to you across borders.
How long will it take to get my order?
Due to a very large influx of orders, we are currently experienced delays of 7-14 days to get some orders out of the warehouse. We are running extra shifts each day to get as many orders as possible out to our customers. Our courier companies are experiencing a high volumes of parcels and some delays from them may also be experienced.
Do I have to sign for my delivery or how do I request ATL?
All orders from Honest to Goodness automatically come with an authority to leave, so no contact is necessary when receiving your orders.
How do I track my order?
You can login to your "my account" on the website to check the status of your order.
You will receive an automated email from our system when the order has been dispatched to allow you to track your order. We appreciate that you may be concerned about the delay in your order however please resist emailing us for an order update unless it has been more than 7 days since your order was placed.
Why hasn't my order arrived yet?
We are currently experiencing a significant increase in orders which means it is taking us a little longer to dispatch orders. Please expect delays of 7-14 days.
We know it can be frustrating or concerning when your order does not arrive within the usual delivery window. To help get orders out as quickly as possible, we have put additional resources in place, including extending warehouse working hours and increasing the number of staff.
Why am I not able to get through to you on the phone?
Most of our customer service team are working remotely so we are not able to accept phone calls. If you need to talk to a staff member please email your question to info@goodness.com.au and we will get back to you as soon as possible. Please note that dues to the high volume of enquiries we are getting the will be some delays in being able to reply to you.
Why haven't I heard back from the Honest to Goodness Customer Support Team?
We are currently experiencing an unprecedented amount of calls, emails and social media messages. Our team is working hard to help all of our customers as quickly as possible. We do recommend an email to info@goodness.com.au as the best point of contact. Please be assured we will respond to your inquiry as soon as we can.
I cannot log in to my wholesale account. I have tried clicking on "Forgot my password" and it does not work. Can you please help?
You may experience this if you have not purchased from us in the 12 months.
Retail customers : Please sign up as a new customer here
Wholesale customers: If you have not purchased from us in the last 12 months you may find your account is no longer active. You are welcome to reapply as a wholesale customer here.
Please allow 5 business days for approval.
When is the SimplyClean Hand Sanitiser back in stock?
Unfortunately, Simplyclean's Australian producer of ethanol is no longer able to supply them until further notice. Therefore, we are unable to receive any further hand sanitiser stock from Simplyclean.
When is this product expected to come back in stock?
We are working closely with our valuable suppliers and increasing our production hours to get products back in stock. We have experienced unusual demand for many products which unfortunately has depleted our stock of many popular products.
Supply chains are being disrupted all over the world and we are experiencing longer than normal lead times however we do have many products arriving every day. We have more canned products, pasta, flour and rice arriving in the next few weeks and much more on its way after that! For estimated return dates of out of stock products, view here.
We do sincerely apologise for the inconvenience and we encourage you to use the Notify Me feature on our website to receive an email notification the moment an item becomes available again.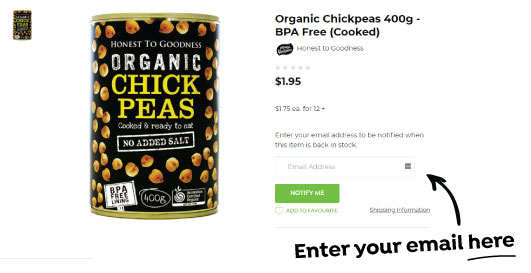 LATEST BLOGS
31st Mar 2020
In the last four weeks, due to COVID-19, we have seen a huge surge in demand which inevitably mea …
26th Mar 2020
Easter wouldn't be complete without a few sweet treats! But often these chocolatey treats leave you …
25th Mar 2020
Chickpeas, also known as Garbanzo Beans, are so wonderfully versatile, it's no wonder we'v …