Winter is upon us and what better way to warm up in the morning, than a big bowl of hearty porridge!
To help you get the most out of your bowl, we have created a nutritious Porridge Blend which is a healthy combination of rolled oats, rolled triticale, polenta & linseed. This blend is a convienient way to incorporate a range of nutritents to kick-start your day! When preparing a bowl of porridge blend, it is ideal to soak this overnight in water and 3 tablespoons of lemon juice
This simple practice will vastly improve the nutritional benefits because soaking in 'acidulated water' allows enzymes, lactobacilli and other useful organisms to break down and neutralise most of the phytic acids naturally found in grains. This helps our bodies to digest the blend which improves the nutritional benefits we get from it. It also makes the porridge smoother and creamier in texture!
HOW TO COOK:
Simply add 1 part porridge and 2 parts milk or water to a saucepan.
Cook uncovered over medium heat for 5-10 minutes stirring frequently.
Add sugar or sweetener of your preference if you like it a little sweeter!
Or... See below for some delicious and nourishing porridge recipes:

---
1. SIMPLE PORRIDGE BLEND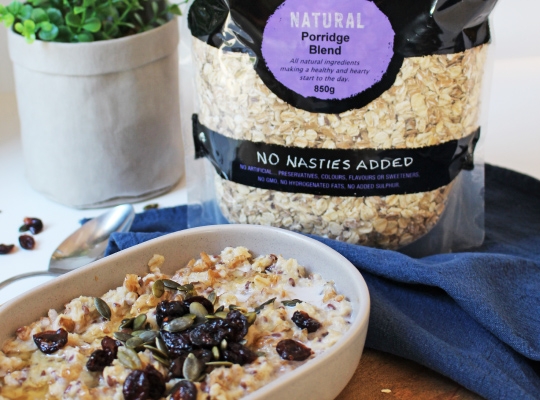 Prepare your bowl of Honest to Goodness Porridge Blend then top with organic dried cranberries, pepitas and a drizzle of raw honey.
---
2. SPELT PORRIDGE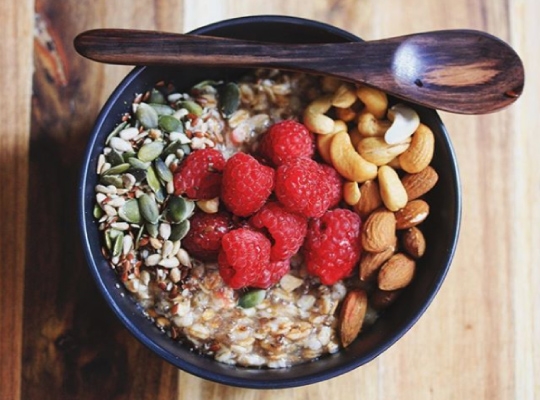 Cook 1/2 cup of organic rolled spelt, 1 tablespoons of organic chia seeds, 1 tablespoon of organic psyllium husks and 1 teaspoon of organic cinnamon on the stove with 1 cup of milk for 5 mins then top with roasted cashews, almonds, omega seed mix and fresh raspberries!
Via Rosie Castle
---
3. HEART HEALTHY PORRIDGE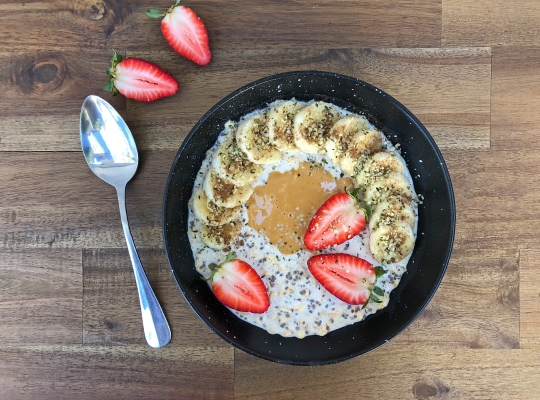 This porridge is full of healthy fats such as Omega 3 & 6 which are known to help to reduce LDL cholesterol that can clog artieries and put a strain on the heart. To create this porridge add tablespoon of organic chia seeds to half a cup of oats cooked using your preferred method and stir to combine. Top with extra nut milk, banana, strawberries, hemp seeds, organic cinnamon and a dollop of organic peanut butter.
---
4. SPICED APPLE TRICOLOUR QUINOA PORRIDGE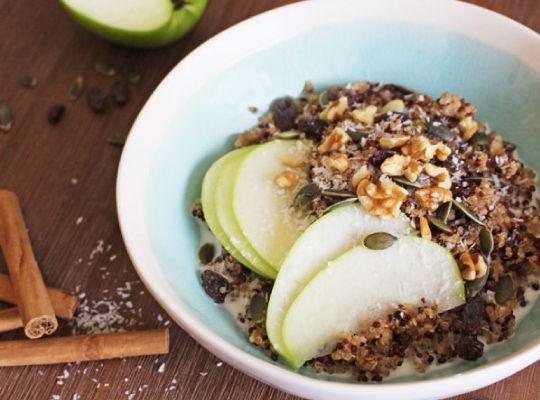 A nutritious and easy to make breakfast porridge using organic quinoa cooked together with apple and delicious sweet spices.
Spiced Apple Tricolour Quinoa Porridge Recipe >>
---
5. BANANA BREAD PORRIDGE WITH CARAMELISED BANANAS

Dig into this decadent porridge and still feel light and energised from its wholesome ingredients! Banana, honey and peanut butter are a scrumptious flavour combination, and gives you a nutritious boost to start the day.
Banana Bread Porridge with Caramelised Bananas Recipe >>
---
6. SLOW COOKER APPLE & CINNAMON OATMEAL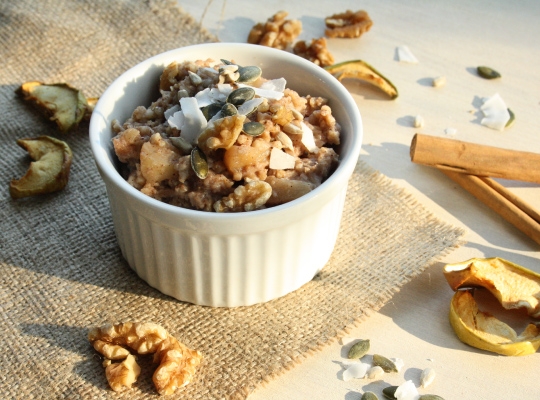 This slow cooker oatmeal is the perfect hearty and nutritious Winter breakfast, and it's so easy! Simply put it on before going to bed, and wake up to the delightful smell of cinnamon and cooked apple...yum
Slow Cooker Apple & Cinnamon Oatmeal Recipe >>
---
7. CHOCOLATE OATS

This warming porridge is a great way to start the day! Full of natural sweetness and made with coconut milk for a creamy texture without the dairy.
Warming Cranberry, Coconut and Strawberry Porridge Recipe >>
---
9. BROWN RICE PORRIDGE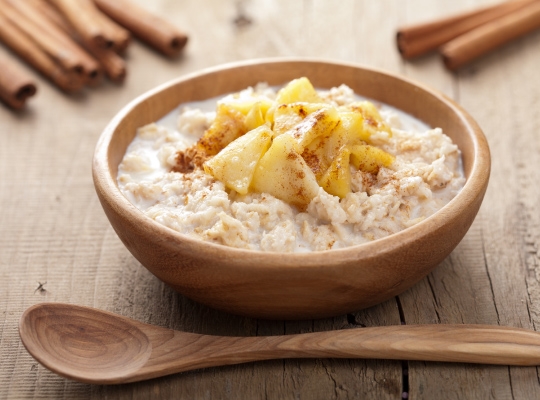 Brown rice is a good source of B vitamins and gentle on sensitive stomachs! Add plenty of milk for a creamy and comforting breakfast bowl.
---
10. CREAMY HAZELNUT PORRIDGE WITH HEALTHY 'NUTELLA'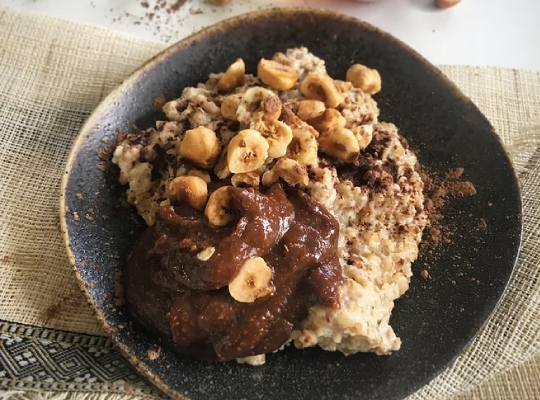 Enjoy a decadent, nutrient-filled breakfast to put you in a great mood any day of the week! Top your porridge with a generous spoonful of healthy 'nutella' and extra organic hazelnuts for an added crunch.
Via Krystle Manning
---
11. WARMING BUCKWHEAT PORRIDGE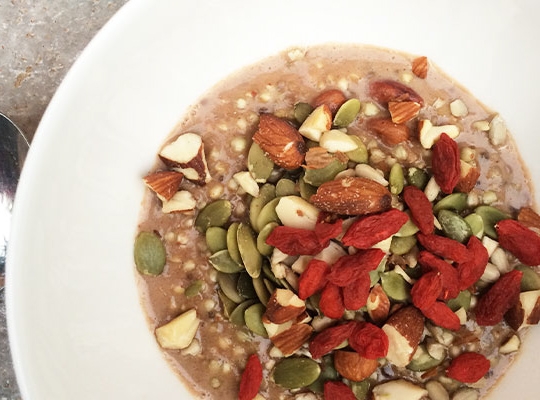 This recipe is rich in protein and completely gluten and grain free. This recipe is perfect for anyone who experiences some digestive upset, prone to a slow sluggish digestive system or those just wanting to give their body a little extra love.