Organic Coconut Butter is an absolute Honest to Goodness favourite, the list of uses is endless! Enjoy as a spread, in sauces, curries, baking, raw desserts, smoothies or drizzled over granola.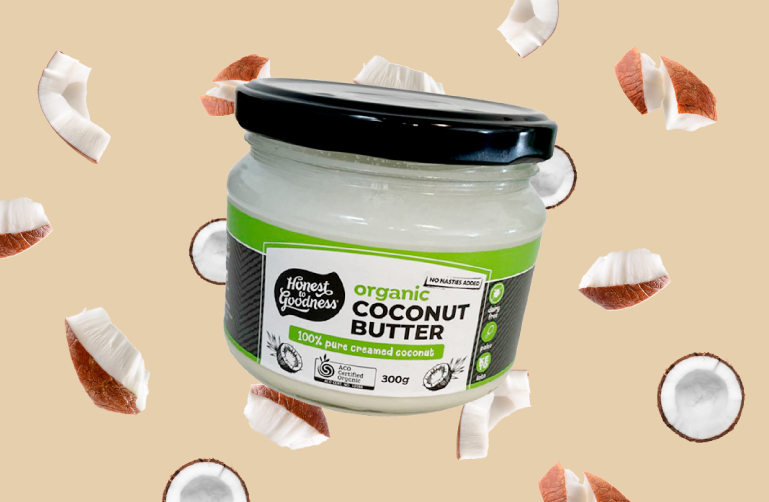 ---
1. It's made from 100% pure coconutty goodness.
Our Organic Coconut Butter is made purely from 100% certified organic coconut flesh! It contains all of coconut's natural fibre, nutrients and healthy fats. Coconut Butter is different to coconut oil as the flesh and fat are blended together to form a rich, creamy texture.
---
2. Coconut Butter is gluten-free, dairy-free, nut-free, paleo & vegan! Plus it's free from any added nasties or added sweeteners.
All of these qualities make Organic Coconut Butter fit for just about everyone!

---
3. Our Organic Coconut Butter is created using a special process.
The coconut flesh is pressed with minimal processing and includes no additives so it retains all of the coconut's natural nutrients. Pasteurising the coconut flesh at a low temperatures helps keep our coconut butter fresher for longer!
---
4. 1 jar 3 uses!
Enjoy as is or simply add (warm) water to coconut butter and…voila! You have coconut milk & cream.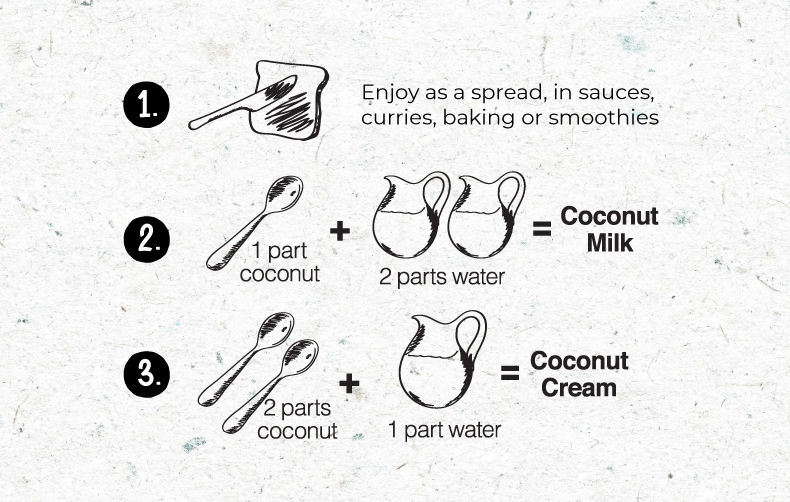 ---
5. Coconut Butter tastes like absolute heaven!
This spread is not only nutritious, but seriously melt-in-your-mouth delicious! It's heavenly creamy and has the delightful sweet taste of coconut flesh. Be warned: spoonfuls of this stuff is highly addictive!
Explore our Coconut Butter recipes >>
---
COCONUT BUTTER COOKING TIPS:
To soften the Organic Coconut Butter it just needs to be heated through gently: simply place your jar in a warm water bath (making sure it is sealed up properly) or leave it out in the sun on your window sill. If you are in a hurry pop the jar in the microwave for 10 second intervals until the butter is soft enough to stir.
Oil separation of coconut butter occurs naturally. If a top layer of coconut oil forms, simply warm up the jar and blend back through with a spoon.