From 1 July 2018, all foods manufactured and packaged for retail sale in Australia must comply with the updated Country of Origin Labelling Standard.
WHY HAVE THE STANDARDS CHANGED?

Many consumers are influenced by a number of factors when buying food, including where a product was grown or made. Having clearer, regulated labels means that it is evident for the consumer to see where their food comes from. This transparency minimises the use of ambiguous claims and allows conscious consumers to have quick, accurate information to help them make informed food purchasing decisions.
---
WHAT DOES THE STANDARD LOOK LIKE?

Products that are grown, produced or made in Australia will display a bar chart, explanatory text and the Kangaroo Logo. There are a few different variations, for example: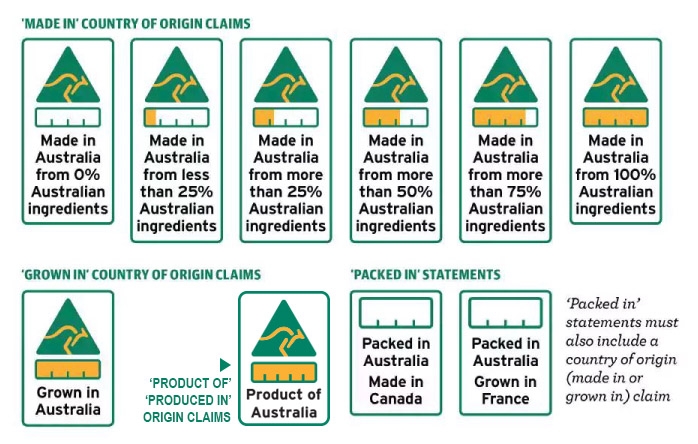 ---
KEY CLAIMS
Each label will need to display one of the following key claims:
GROWN IN:
Must have been grown in the country claimed OR
All significant ingredients are from the country claimed and all the major processing was done there. (For example almonds or chia seeds).

PRODUCED IN/PRODUCT OF:
All significant ingredients are from the country claimed and all major processing was done there. (For example almond meal or coconut oil).

MADE IN:
Underwent its last substantial transformation in the country named. (For example tahini or peanut butter).

PACKED IN:
For foods from two or more countries that are combined for packing without substantial transformation. (For example mueslis or trail mixes).
---
WHAT IS EXEMPT?

The new Information Standard covers all food for retail sale in Australia. According to the new Information Standard, you will not need a standard mark (graphic and text-based label) OR a country of origin statement for the following food products types:
foods not for human consumption (for example pet food, bird food)
foods sold in restaurants, cafes, takeaway shops or schools
foods sold at fund-raisers
foods sold in the same premises in which they have been made and packed (for example a bakery that sells their food products exclusively at the shop-front of the facilities where the products were made and packed will not need a standard mark for their food products).
A standard mark is optional for non-priority foods, which will only require a country of origin statement as a label. Non-priority foods include:
seasonings
confectionery
biscuits and snack food
bottled water
soft drinks and sports drinks
tea and coffee
alcoholic beverages.
Do bulk food bins need to cover the Standard?
According to the ACCC, unpackaged foods are not covered. However please note that unpackaged nuts, herbs, spices, legumes and seeds do still apply to the Standard. Read here for more information >>
---
DOES HONEST TO GOODNESS COMPLY?

Honest to Goodness complies with all ACCC (Australian Competition & Consumer Commision) guidelines. If you have received a product without the new country of origin logo displayed, it is either exempt from displaying the logo or was packaged prior to 1st July 2018.
For more information head to the ACCC website or contact our team at info@goodness.com.au