Ulu Hye, prononced "ooloo high" - Ulu in Hawaiian means 'to grow' and 'to inspire'.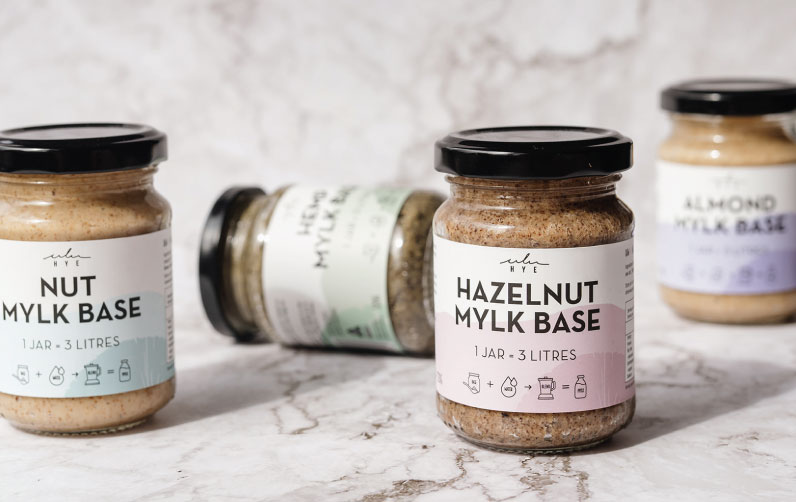 What are mylk bases?
Ulu Hye's Mylk Bases are a solution to carton waste. Simply blend the base with water for 1 minute to make your plant-based milk at home. Make what you need, when you need it. 1 jar makes 3 or 10 litres!
---
Why it matters:
UHT cartons are difficult to recycle with majority ending up in landfill. 12.9 billion dairy alternative Tetra-Pak cartons ended up in landfill in 2020 alone. 1/3 of all food is lost or wasted - in Australia, that's 7.3 million tonnes of food per year. So let's stop pouring unused milk down the sink!
---
Is a nut mylk different to a nut 'milk'?
the spelling 'mylk' is used often to not confuse a plant origin based 'mylk'' from a dairy based 'milk'. Some people do refer to a 'nut mylk'as a 'nut milk''. we use 'mylk'to try to distinguish from dairy origin milk
---
How to use nut mylks:
Drink on its own, add to smoothies or even incorporate into your favourite desserts! Only make what you need in one easy step - ready in 60 seconds. It doesn't get more convenient than that!
---
Are 'nut mylks' just for vegans?
Of course not, the fact nut mylk bases suit vegan diets means they hold high appeal. However, we know that many of our customers (and our own staff) are turning to a diet far richer in plant-based origins, and seek healthy alternatives that are also low waste. These nut mylks are so tasty and so convenient that we know they will become a pantry staple in the households of Australians who follow various different diets.
---
My milk is watery, am I doing something wrong?
A good tip I always recommend is to blend your milks the night before, as they thicken up considerably overnight and become more creamy. It's also important to blend on high for a full minute to ensure you get the best consistency. If your blender isn't high-powered, then combine the base with 1/4 cup of water and blend to make a paste. Once the paste is formed, add the remaining water and blend for a full minute.
---
There is sediment in my milk, why?
There will always be a small amount of sediment in your milk once it's settled in the fridge. This is because Ulu Hye's Mylk Bases contain no emulsifiers, additives, gums, thickeners or preservatives. They are equivalent to homemade milk. To be transparent with you, their Hemp Mylk Base and Hazelnut Mylk Base will have more sediment than the Almond and Nut flavours.
---
What makes 'nut mylk bases' something I should consider?
The no waste, 'make what you need' appeal is high, and these compact nut mylk bases save space in pantry and fridge versus 'made up' products. Also, we know from customer feedback that stocking up for guests, neighbours and family with dietary requirements is important, as we all start socialising and planning visits and get-togethers at home.
---

Ulu Hye nut mylks are vegan, dairy-free, sugar-free, gluten free and paleo. There are four different flavours based on what you want to make!