Turmeric, also known as curcuma longa, is a traditional herb native to India and Asia, with ancient healing properties and versatile culinary uses. The dried and ground root of this herb, produces this vibrant yellow spice which brings life to any dish!
Turmeric is widely used in Traditional Chinese Medicine and Ayurvedic Medicine as an anti-inflammatory agent and to treat digestive disorders, menstrual difficulties and colic. It has even been referred to as "holy powder" in India, due to its anti-inflammatory properties, used to treat wounds, infections and other conditions. In more recent years turmeric has become popular in Western cultures with more emerging research on the healing properties of curcumin, one of turmeric's main constituents.
---
WHAT ARE THE BENEFITS OF TURMERIC?
Curcumin is the ingredient in turmeric which has been identified as the beholder of these powerful anti-inflammatory and antioxidant properties! Curcumin is now seen as a fantastic aid in prevention and treatment of many inflammatory diseases including; diabetes, heart disease, cancer, chrohn's disease, psoriasis and rheumatoid arthritis, to name a few!
Anti-inflammatory agent
A 3 month trial in Italy, investigated the effect of curcumin on patients with osteoarthritis. After 90 days, researchers found a 58% decrease in overall pain and stiffness as well as an improvement in physical functioning. They also found a 300% improvement in the emotional wellbeing of the curcumin patients compared with the others!
Heart Disease prevention
Studies have shown turmeric has cholesterol-lowering, antiplatelet and antioxidant activities which are all beneficial in the prevention and treatment of cardiovascular disease.

Alzhiemer's Disease
Studies have shown that elderly people living in Indian villages appear to have the lowest incidence of Alzheimer's disease in the world, with just 1% of those aged 65 years and older suffering this terrible condition.
Detoxification
Studies indicate that curcumin increases important detoxification enzymes in your liver and increases bile flow, which helps you to digest fats and break down toxins.
Type 2 Diabetes prevention
A 2012 study where pre-diabetic subjects were given 9 months of curcumin supplementation, showed improvements in blood-sugar control and reduced risk of developing Type 2 Diabetes.
Although many of these studies are on the active constituent, curcumin, there have been benefits associated with regular dietary consumption of turmeric. We all know it is good for us, but how do we use it?
---
HOW TO USE TURMERIC
Turmeric has a peppery, warm and earthy flavour and a delightful orange ginger fragrance. While it is best known as the main spice used in all curry dishes, it also makes a healthy and delicious addition to juices, stir-fries, rice dishes, marinades, or as a spice to vegetables and salads.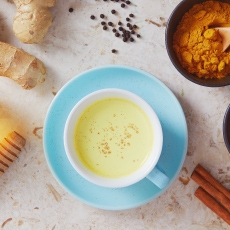 Turmeric serving ideas:
Creating a warming turmeric latte for cold winter days
Make a wholesome curry thats full of spices, colour and flavour
Add to egg salad to give it an even bolder yellow colour
Turmeric compliments any lentil or legume dish!
Add to your salads dressings for a warming flavour & burst of colour
Sauté vegetables with turmeric…cauliflower and pumpkin is a delicious combo!
Add a healthy pinch to your hummus!
Oven bake freshly chopped kale with turmeric, to make warm spiced kale chips!
We have a range of organic turmeric powders and products in our range: