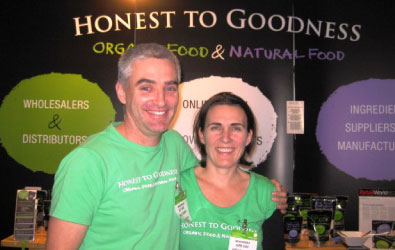 This month marks 10 years since Matt Ward and his wife Karen started this family run organic food business. From humble beginnings selling unpackaged pantry staples at various growers' markets around Sydney, the Honest to Goodness wholefood pantry has now grown to over 700 products, whoa! Time sure does fly when you're having fun!
Matt & Karen Ward
The 2012 Australian Organic Market report was just released, which gives you an insight into all of the statistics and numbers surrounding the organic industry, if you're interested in those kinds of things, download the report here!
The main message throughout the report was that organics is growing and becoming more 'mainstream' as they like to say. There is no doubting that more and more people are choosing organic as we are all becoming more aware about the role foods play in our health and the environment. We have the pleasure of servicing passionate foodies and organic food devotees every day, so we have definitely witnessed the evolution of organic food in Australia.
These days, we all want to know more about how our food is produced, the story behind the food and its growers. We try to share these stories as much as possible; as it definitely interests us so we're sure it interests our customers too! If you haven't checked it out already, jump over to Our Growers page here for the behind the scenes scoop on our grower's around the world.
We believe that organics has a strong future in Australia, and our team of dedicated food and health nuts here at Honest to Goodness HQ are on a mission to make sure more Australians know about the benefits of organic and natural foods.
Our original market stall at Leichhardt markets!
Being a small business, we are lucky that we get to chat face to face with many of our customers every week at our market stalls. If you haven't visited us there already, make sure you come along, it's always a great way to meet the faces behind H2G and also see and try our products!
We have also recently re-located to a larger premise in Alexandria, where we have completed a sustainable fit-out of our office, warehouse and retail showroom.
To celebrate hitting the double digits, we're holding a special Birthday Breakfast Bash!
Where: Alexandria Showroom
When: Friday 23rd November, 7.30am-10.30am.
Come along and celebrate with us! Enjoy a delicious organic breakfast, organic & fairtrade coffee from Sacred Grounds, try out our latest products and check out our new digs! We hope to see you there! Full event details here…
Organic Food Market Facts
• $1.27 billion – is what the organic industry is worth to Australia right now, with estimates that this could reach in excess of $5bn!
• 15% yearly growth is predicted for the organic industry, placing it within the top 5 growth industries in Australia.
• More than 1 in 20 are regular shoppers of organics and almost 2 in 3 have bought organic in the past year.
• 65% of Australians have bought organic products in the past year (up from 40% in 2008 and 60% in 2010)
• More than a million Australians purchase organic food products regularly.
• Approximately 5% of organic shopping is done either online or via direct methods such as home delivery.
• 45% of organic food purchases are household pantry staples.
Top 5 perceived benefits of organic food:
1. Chemical-free (79%)
2. Additive-free (77%)
3. Environmentally friendly (67%)
4. Hormone/antibiotic-free meat (64%)
5. Non-GMO (62%).
What do you love about organic foods and what made you make the switch? We would love to hear your stories!