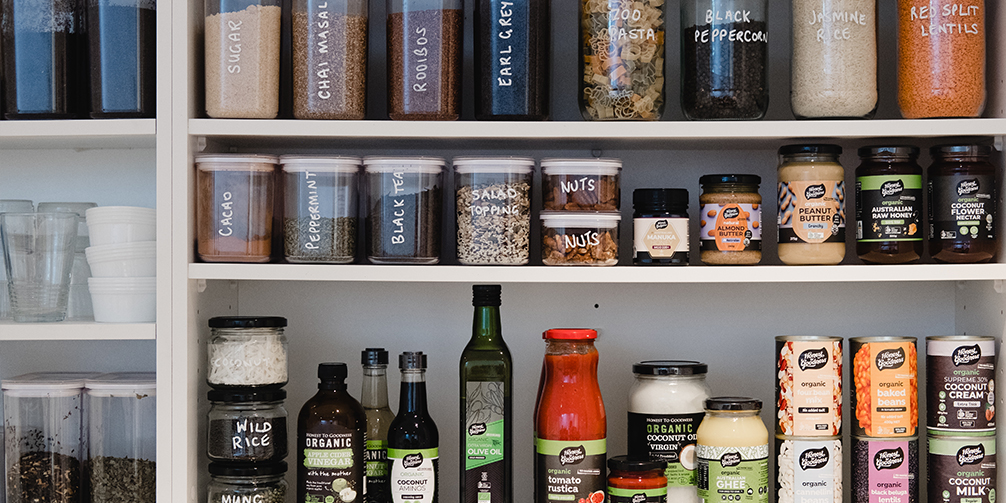 Do you want to build up a beautiful, healthy whole food pantry but don't really know where to start? Don't stress, we've got the top tips and basics to get you organised and on your way to a healthier home full of nutritious pantry staples.
FOCUS ON "REAL, WHOLE FOODS"
These are ingredients or products that are in their most pure and basic form, therefore retaining more goodness and nutrients than compared to those processed and refined packaged foods.
CLEAR OUT ALL THE NASTIES
Remove all the "bad" items that are currently in your pantry so you can start out fresh. That means all of the packaged refined and processed foods containing added preservatives, thickeners, firming agents, food acids and fillers, as well as processed foods high in sodium or sugar.
WRITE A SHOPPING LIST
Create a list of all the ingredients you need to help replace all the products you may have removed and pave way for better, healthier food options. To help you write up a list, download the Honest to Goodness Healthy Pantry Staples List here >>
If you come across an interesting ingredient or product that you've never used before, look up more information about what it is, why it's good for you and how you could use it in cooking. Our website is full of useful information, tips and recipes to help you out – www.goodness.com.au.
CHOOSE ORGANIC FOOD
Source organic food wherever possible to ensure your food is pure, minimally processed, highly nutritious, contains no GMO's or added nasties, and is sustainably sourced.
BUY YOUR FAVOURITE STAPLES IN BULK
This will save you money in the long run. Start off by stocking up big on a few of your favourite grains, legumes, spices, baking ingredients or tinned goods that are used quite regularly as you know they will all be used up eventually and not be wasted!
LOOK FOR "BPA-FREE" TINNED FOODS
Items such as coconut milk & cream, beans and tomatoes. (BPA is a toxic chemical that can filter into foods from the lacquer lining of tins, bottles or other containers made from plastic).
STORE YOUR FOOD AWAY PROPERLY
Store your dry goods in air tight containers and out of direct sunlight to help maintain the shelf life of your goods and reduce the risk of it spoiling. Glass jars and bottles are ideal reusable containers for your food, however you can source BPA free plastic containers from retailers such as Big W, Kitchen Warehouse, or other online stores. Head here for specific storage tips for various ingredients >>
Organise your pantry ingredients into categories so you remember where everything is kept. Label anything you put in containers, and even write down the best before date to keep track of it all.
TIME TO GET STARTED!
>> Stock up on all the healthy pantry whole foods that you need at our Online Shop.