We recently interviewed our team member, tea connoisseur and customer service guru, Alana. Her passion and knowledge for tea spilled over into the creation of our new Loose Leaf Tea Blends. Learn more about Alana's world of tea below.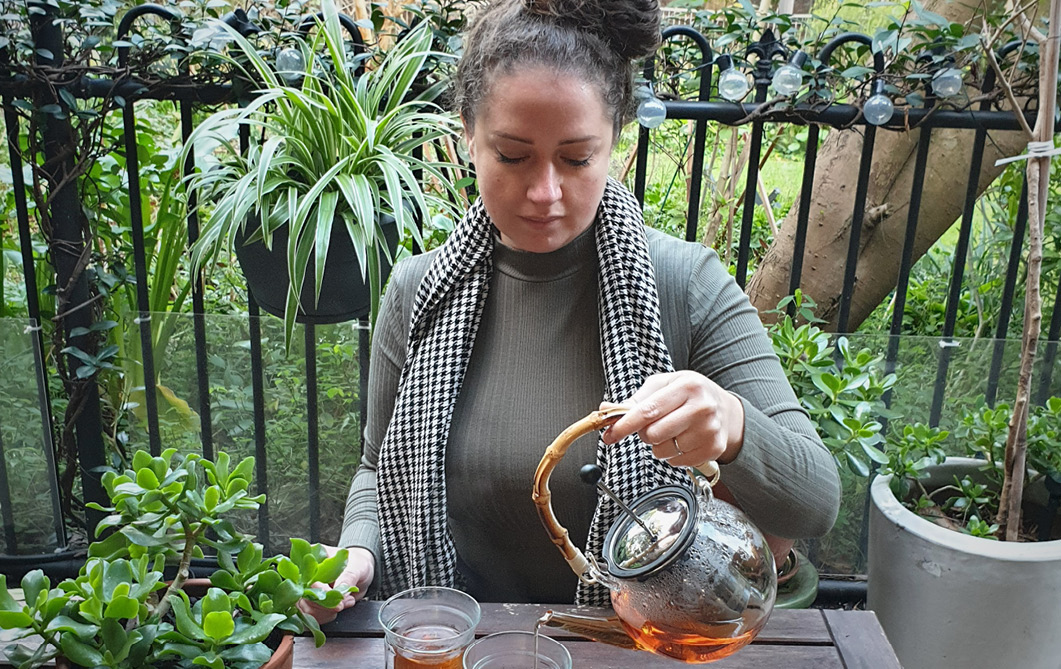 What brought you into the world of tea? In specific loose-leaf tea?
I have always been a tea person. I do like coffee, but it doesn't like me!
As good quality loose leaf tea became more widely accessible in Australia years ago, I started exploring it. While teabags are convenient, I feel there can be limitations. You can see exactly what's in your cup with loose leaf tea! Plus, it's more sustainable. In time, I became interested in the leaf varieties, textures, colours, flavour, tea's origin, and history.
My pursuit of tea evolved after transitioning into the health food and wellness industry about 10 years ago. While studying the benefits of herbs and remedies, an interest in furthering my tea knowledge grew. Over the last 3-4 years, I completed both a tea blending and tea master certification and began experimenting with ingredients, creating my own tea and herbal blends.
Loose leaf teas are a bit more versatile and easier to use if you fancy a jug for iced tea.
In July 2020, I founded Fine Infusions. A small business focused on loose leaf tea and herbal tisanes (herbal tea blends) with the use all natural ingredients. I now have an online store and run a market stall in Sydney a few times a month.
---
How did your passion for tea spill over into helping H2G with months of tea blend perfecting?
Our H2G products team asked me if I would like to be involved in the tea sourcing process, knowing I had developed my own tea products. Our values align on the importance of good quality, natural and healthy ingredients. I know H2G's products well and I use some H2G ingredients in my own blends.
Much consideration goes into finding the right supply. We spent a lot of hours, sampling, tasting and collecting feedback from our team members. Finding the right balance between a product that tastes good while offering positive health benefits takes time and patience. I found this to be an enjoyable part of the process in my own business and I felt the same working on this project with H2G.
---
What were the most important attributes the H2G teas blends needed to include?
Quality and flavour are important. I personally believe, the subtleties and complexities of natural flavours are much more interesting than overpowering, artificial flavours. The tea drinking experience should start when you open your package and smell the aroma of the dry tea or herbs. The aroma can often significantly differ to the 'liquor' (in other words, leaves steeped in water).
Of course, not everyone is going to like the same tea. But sourcing the right ingredients to make sure the tea or blend is palatable is key. That comes with testing and logging all the feedback, making subtle or major adaptations, until you are happy with the final result.
---
What is your favourite H2G tea blend? Why?
I like the Organic Loose Leaf Digestive Tea. It's smooth, with nice balance of citrus, mint and floral notes. The mix of ingredients are soothing and calming on the digestive system; nothing is too overpowering.
The quality is lovely and it's a natural healer!
---
What inspired you to create your own tea business?
It incorporates many of my passions into one. I like to play with ingredients and get creative. I love food and experimenting with flavours. Working with tea brings the opportunity to travel and learn from different cultures. Tea = community and connection. I've met some interesting people since I founded Fine Infusions through study, the markets and friends of friends etc.
---

Tell us more about your teas:
H2G has some of the best quality organic ingredients, which I use in some of my blends. My favourites to use are organic chamomile, organic peppermint, organic cacao nibs and organic cinnamon quills.
I have a Tea Journal on my website with various tea-nerd information! A Brewing Guide, Health benefits of Tea, Choosing the Best Green Tea... and more.
---