Kindred Organics is our Aussie-grown quinoa and hulled buckwheat supplier based on the North-West coast of Tasmania and are the producers of the first commercially grown, organic quinoa crop in Australia.
Shop Kindred Organics Products >>
Owners Lauran and Henriette unfold their story below.
---
GROWING AND PROCESSING
Our products are 100% Australian and 100% Certified Organic.
We have had a lifetime of experience growing grain, with the last 10 years growing Certified Organic grain in the clean soils of Kindred, Tasmania. Our Australian quinoa grows in the long sunny summer days, cool ocean breezes and fresh mountain rains.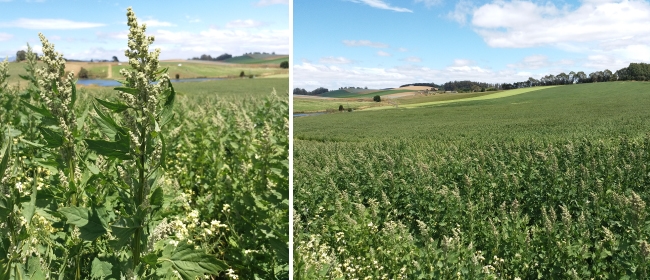 For a year and a half, we grow grass with clover on our paddocks - this brings much goodness and fertility to the soil so we can then grow healthy crops. This is the same sustainable principle that has been practiced for thousands of years, however, today we also work with advanced machinery to help control the weeds. We do not have to rely heavily on input trucks coming into our farm, therefore we can remain sustainable on a long-term basis. As farmers it's important for us to make the right environment for plants and animals to grow healthily.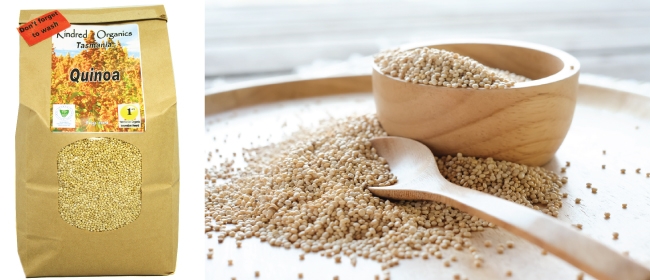 We grow, store, clean, process and package all of our products on the family farm in Kindred. This means our supply of products have low food miles, are high quality, nutritious, ethically grown and are environmentally/vegan friendly, and also support Australian workers with fair wages.
---
CONVERTING OUR FARM TO ORGANIC
Originally as conventional farmers, we had often left an area of grain crop for our own consumption that was untreated or replaced with organic farming alternatives. We soon found that some organic alternatives (like compost tea) were producing better results, which triggered our motivation to completely switch the farm to organic.
When we finally decided to make the transition from conventional to organic, the timing seemed right within the industry as people were beginning to see the real link between food and health (20 years ago, the link between health and smoking was not even recognised!).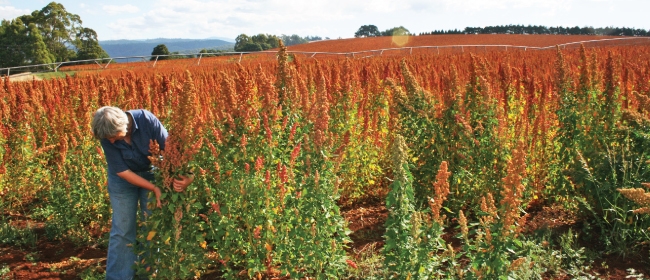 Whilst we already crossed between conventional and organic farming, we found it challenging to keep the biology aspect favourable so our first step was to visit other organic fields and gain more knowledge on the fundamentals of this type of farming.
We converted our farm in phases to help reduce risk, and although there were times during the conversion that were particularly testing, we kept going. For every problem we found a solution. Now we are happy and proud owners of a fully converted certified organic grain farm.
---
VALUES
We are passionate about growing healthy nutritious food. We have always had concern for how to manage the impact of food and diet on overall health, caring about helping people improve their health through nutritious food.
We believe that we look after the health of our consumers by looking after the health of our soils. Here at Kindred Organics we value biodiversity and supporting a healthy environment.