Niugini Organics creates high-quality certified Organic Coconut Oil and Soaps using organic coconuts from various small, local farmers in Papua New Guinea. Honest to Goodness is proud to distribute Niugini Organics throughout Australia as they have enabled the communities of our global neighbours to earn a fair wage for their products whilst working in fair conditions.
Shop Niugini Organics coconut products >>

Discover their story below:
---
THE FIRST TRADE

'Niugini Organics' was established by Dennis and Debra Hill, who originally started 'Tropic Frond Oils' to service the local market in PNG with hair oils and soaps in 1994. The existing 200-year-old trade model, saw the exportation of Papua New Guinea (PNG) smallholder farm produce as an unprocessed bulk commodity to manufacturers around the globe, and for only a fraction of its value.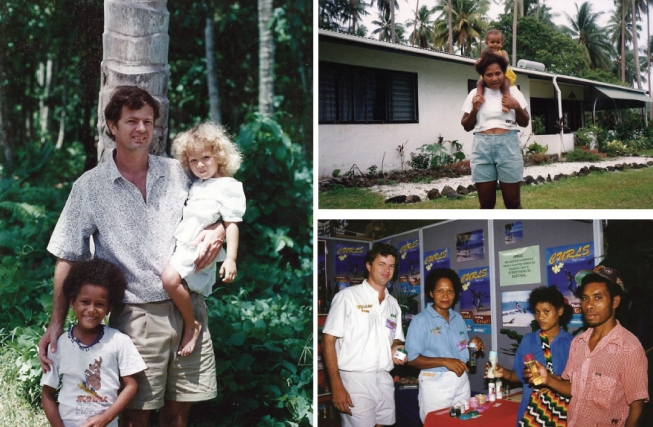 As a direct challenge to this export model, the Hills began processing and packaging raw organic produce directly within Papua New Guinea. They sold it ready for retail stores in Australia under the brand 'Niugini Organics'. This resulted in fairer returns to the producer as well as safer working conditions.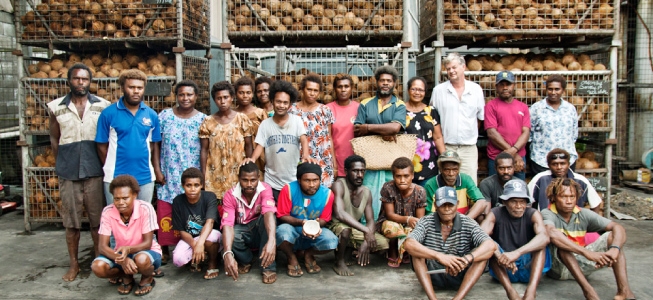 The first ever commercial shipment of organic virgin coconut oil from PNG direct to Australian retailers was completed in December 2008. This event was celebrated with the late Sir Ebia Olewale officiating at a handover ceremony to their first Australian retail customer. This was an exciting day for the people of Napapar in PNG!
Today the Niugini Organics staff numbers have now grown to over 40 members. You can learn more about some of the PNG-based Niugini team here >>
---
FAIR-TRADE

A Fair Trade scheme that ensures that the villagers are paid a fair price for their coconuts, Papua New Guinea's smallholder plantations have been transformed into a happier, healthier and more prosperous place.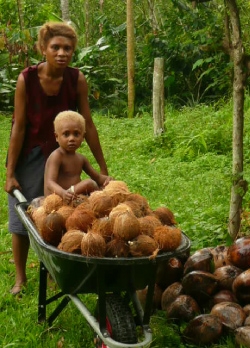 What does Fair Trade mean to the people of Napapar? Locals who are registered as suppliers to Niugini Organics receive:
A guaranteed market for their coconuts, and therefore a guaranteed cash income to pay for school fees and living expenses.
A price higher than the local average price.
Transport of the nuts from their gardens to the plant by utility
The nuts are at their freshest and the farmer is paid on the day.
A wheelbarrow to make harvesting easier (yes, a simple wheelbarrow is a serious investment for a subsistence farmer)
Services of a local liaison officer who helps local farmers to maximise their crop and ensures organic practices are followed.
A mobile phone which facilitates contact with the plant and can be used by the farmer. (This may sound trivial, but there are very few telephone lines in PNG – this is why the Australian Paulian Mission is building a national radio network in remote areas, primarily for emergency medical response).
Today, the organic coconuts purchased provide the main income for over 200 local families.
---
SUSTAINABILTY

With a productive life of well over 100 years and a low impact on the natural forest habitat around it, the coconut palm is perhaps the ultimate sustainable crop. All coconuts are supplied to Niugini Organics under "wild harvest" conditions, meaning the nuts are husked close to where they fall. The husks are a valuable source of potassium, as are the fronds that shed continuously. Naturally occurring leguminous creepers are allowed to thrive, helping the husks and fronds decompose back into the soil.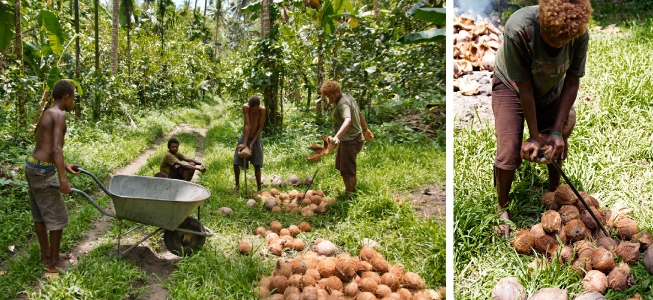 The smallholder farms that grow these coconuts are located on the Gazelle Peninsula, an area defined for its rich volcanic, pumice soils. Each farmer owns their own land and is paid above recommended fair trade prices on the day of delivery.
The palms themselves are indigenous local, varieties and highly resistant to the insect pests and viral infections that plague hybrid coconut palms, therefore are not dependant on fertilisers and insecticides.
Some of the other unique sustainability methods used by Niugini Organics include:
The pressed coconut 'meat' is sent to local agricultural projects to feed cows, chickens, pigs etc
Vehicles are run not on fuel but on coconut oil
Discarded coconut shells are used to produce power to run the factory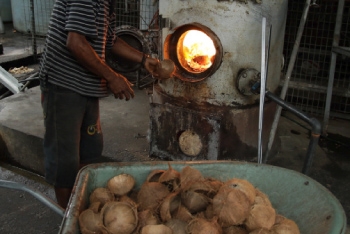 ---
NIUGINI ORGANICS COCONUT OIL & SOAP
Niugini Organic 100% Organic Virgin Coconut Oil is processed in Papua New Guinea in a small modern plant and is 100% organic, single origin, raw, unrefined, unbleached and undeodorised. Dennis and Debra have now spent over 20 years developing their unique cold press coconut oil process that produces a coconut oil of the highest possible quality.

Fresh from the shell, the coconut meat is quickly cold-pressed and left unrefined to preserve the natural nutritive essence of the coconut. Since all the growing, processing and packing is done in PNG, this means Niugini coconut oil has travelled very minimal food miles!



Their organic soaps are made using the same unrefined coconut oil, using a traditional boiled method and the addition of pure essential oils. They do not include artificial fragrances or colours.