2011 has nearly come to an end. It is time to reflect on the year that has been, but also an exciting chance to look ahead at the year to come! There are going to be some exciting and BIG developments at Honest to Goodness in 2012! A taste of what's to come...a new and unique website with endless possibilities...innovative and unqiue new products will be released...some will be firsts in Australia! Have we teased you too much?!
Our Christmas Gift...
Instead of sending standard Christmas cards & treats this year, we decided to give a gift of goodness to a chosen charity, on behalf of team goodness and our customers. This year, we chose an innovative social enterprise called Good Return, for our Christmas gift donation.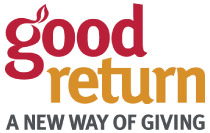 Good Return was established by independent not-for-profit agency, World Education Australia, to address poverty issues in the Asia Pacific region. This social enterprise, specialises in microfinance, financial literacy and livelihood development programs. Donations are entered into their loan system to assist individuals in starting or expanding their small businesses.