Here at Honest to Goodness, our main goal is to provide high-quality wholefood ingredients that are beneficial to your health and are easy to incorporate into everyday life.
As a family-owned company with a passionate team of like-minded people, we proudly share the belief that that living a healthy and sustainable life should not be difficult or expensive, and that we all play a role in leaving the world better than we found it. This is a huge part of what makes us a Certified B Corporation! We LOVE that our foodie community shares this same passion - not only about health and wellbeing but about the sustainability of our natural environment.
We understand that the current packaging of our food pouches is unfavourable due to its plastic make-up. We do listen and appreciate all customer feedback, and most importantly, we embrace it.
As a company, we value transparency as it keeps us and the people we work with, honest and accountable. So here we'd like to share with you an update on our sustainable packaging journey!
---
WHY HAVEN'T WE SWITCHED TO SUSTAINABLE PACKAGING EARLIER?
Our Honest to Goodness products are all preservative free, 100% real food and it is our prerogative to deliver our goodies to you in an uncompromised condition to maintain taste, texture and quality. To do this, we need a pouch that keeps our product fresh, protected and stands the test of time.
Switching to sustainable packaging has been a desire of ours for well over a decade now – we have just been waiting for the technology to catch up. You may have seen some compostable bags appearing across other brands, however many of these are industrial compostable bags, meaning they don't actually break down in a personal compost bin. Our preference is for clear home compostable bags, which is a technology that is still in its early days.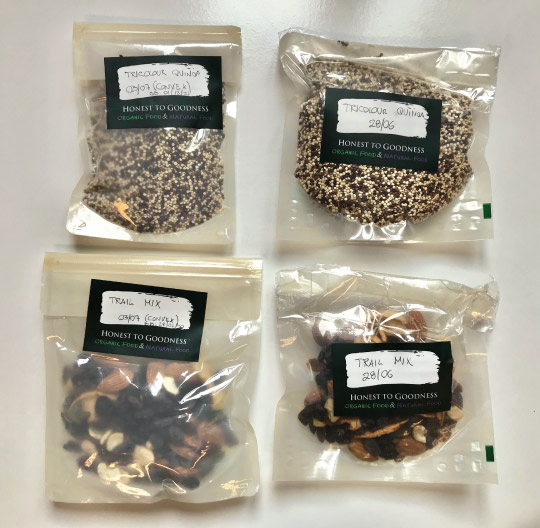 Trialling new packaging takes time. We need to see how the packaging stores a wide range of ingredients, from very dry quinoa to oily LSA. This testing can take months! We can't just test for a week and hope it lasts in the pantry for months – our packing has to withstand our product 'best before' date before breaking down. We also have to trial this packaging at the high temperatures that we face during an Australian summer, and a cold, damp environment, should you wish to freeze your goodies.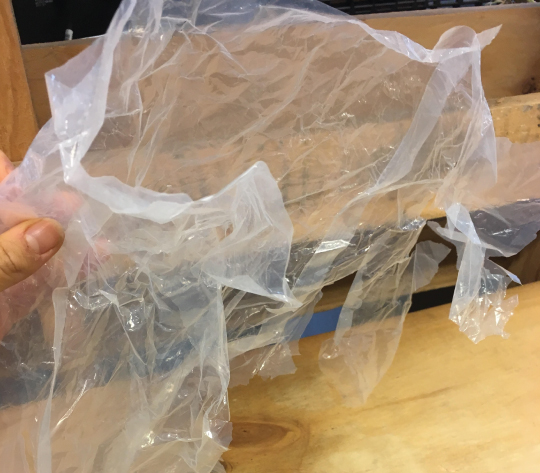 "This is what happened with one of the bags that I froze with some beans inside. Not ideal! Poor John in the warehouse had to clear the freezer of the beans that went everywhere" - Laura | Sustainable Packaging Project Manager
Why not switch to paper? Paper is a great solution for storing goods for a short time, for example, from a bulk food store to your home. Paper packaging exposes products to more air, shortening its shelf life. Small critters such as grain beetles find it much easier to eat through paper packaging, causing more infestations - and wasted food!
What about glass? Glass is a great option for storing bulk foods and avoiding infestations, however, glass is heavy and is also more fragile. During transit we can't always ensure boxes do not move around, therefore we would require more packing materials to pad and protect glassware from breakages. Breakages also mean food waste and any soiled freight boxes are not recyclable...more problems than solutions!
It's important for us to switch to the perfect packaging material, as any repack failure is a contributor to food waste - and certainly not a problem we want to add to a poor packaging solution!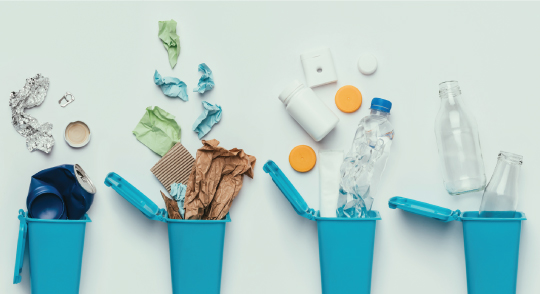 Rest assured, we are seeking a sustainable solution, whether it be recyclable, compostable or biodegradable. While we can't promise an exact date of when to expect home compostable packing in your pantry just yet, we do have a dedicated team working tirelessly to research and trial this project!
We thank you for your patience and support along this journey.
---
OUR CURRENT SUSTAINABILITY EFFORTS
In the meantime, here are just some of the other sustainability initiatives we currently have in place:
You may have noticed that we have recently switched from bubble wrap to paper in our shipper boxes! We spent time researching materials we could use to ensure our product packaging withstands the journey from our warehouse to your home. The paper we use is sewn together to make padding thicker and sturdier.
All our plastics and cardboard that we use in our production facility are recycled. You might even receive your goods in a non-Honest to Goodness box – we reuse all suitable boxes that come through our door!
We use non-toxic cleaning products to clean our office, warehouse and production facilities.
To reduce unnecessary labour and waste, our larger product sizes are kept in their original supplier packaging! We do not transfer these sizes into Honest to Goodness branded packaging.
All our printed materials, including flyers, product catalogues and business cards are printed on recycled paper stock.
Low flow taps and toilets have been installed in the company office and our electricity is provided by Powershop. Powershop is Australia's only electricity retailer to be certified 100% carbon neutral by the Australian Government, who offsets all carbon emissions we use. They are Australia's largest 100% renewable power generator.
We have created our own reusable shopping bag that is made from 100% recycled plastic, as well as provide hessian and canvas shopping bags. In-store and at the markets we do not provide any single-use plastic bags at the checkout, only brown paper bags.