100% of profits we make from the Neighbours Blend Coffee goes into Project Timor - YOU can help make a difference.
Project Timor provides the opportunity of a quality education and essential nourishment to young women in the community of Maliana, Timor Leste to help them build a sustainable and better future.


WHY PROJECT TIMOR?
In 2019, Lily, the eldest daughter of the founders of Honest to Goodness, then 16, went on a school immersion to Timor Leste. On this trip she saw the hardships the community faced daily and upon her return to Australia, she decided she wanted to give back and continued to consider how she could do this.
Lily says "Most of our time in Timor Leste was spent at a school, Colegio Infante de Sagres in Maliana. This trip was one of the first times I had left the 'bubble' of my life and immersed myself in life at a school in Timor Leste. It was eye opening and life-changing for me."




"Through this experience, I developed a personal connection to the school and community. I realised how lucky I was and was inspired to find a way to provide ongoing financial support to a school that I saw first-hand was deserving. I appreciate what a good education has brought to my life and want to offer the same opportunity to other young women who would not otherwise be able to access quality education."
Upon discovering that Timor grows and sells coffee, and that Australian's love a good cup of coffee, Lily set about creating Neighbours Blend - Premium Organic Coffee with a purpose! Each cup you enjoy helps us help them!
Schooling is hard to come by in Timor Leste. Unfortunately for many young people, access to education is denied by a myriad of factors, with just 18% of Timorese girls graduating high school. Anything we can do to help educate the young women of the future of Timor we are proud to be associated with.
On-going financial assistance is a pivotal starting point to give back to this community and why we have chosen to give 100% of the profits from Neighbours Blend Coffee to Project Timor.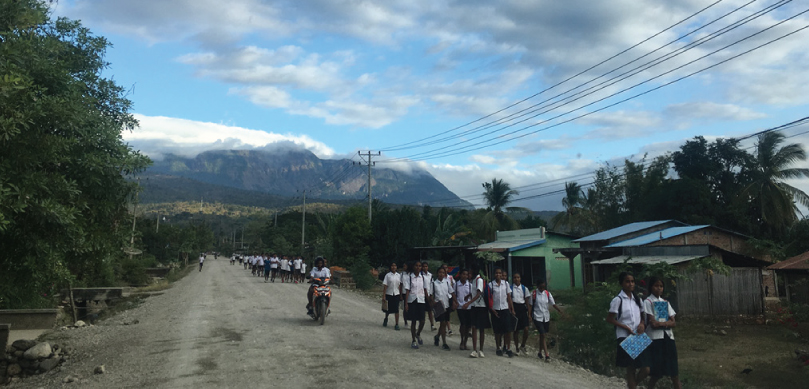 PROJECT TIMOR - WHERE DO THE FUNDS GO?
Project Timor has 3 main programs that they support.
Food For Thought Program:
The lack of nutrients and protein contributes to high levels of illness, absenteeism from lessons, and overall reduced capacity to learn. The Food for Thought Program raises funds to meet the nutritional and literacy needs of the students at Colegio.
Colegio Scholarship Program:
The Colegio Scholarship Program (est. 2017) is awarded to the top two achieving female students. In 2018, two Year 12 graduates received full scholarships to attend Universidade Nacional Timor Lorosa'e (UNTL). Both Scholars have been accepted into UNTL to study Medicine!
Teacher Professional Learning Centre:
There is currently an acute shortage of qualified teachers in Timor Leste. The College is committed to working in partnership with the Timorese people to build a sustainable future for the young people of this country and help provide quality teachers as the starting point for this. The Teacher Professional Learning Centre will improve educational outcomes for the children of Maliana, who currently make up 60% of the population (<25 years).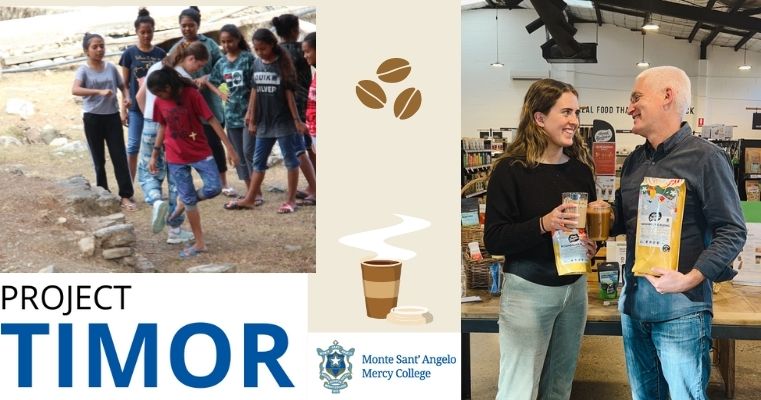 WHY COFFEE?
Timor Leste is well known for its coffee and is a primary industry for income. By growing and selling coffee in Timor Leste, the people benefit from the trade and the consumption offshore, with funds being returned to Timor Leste to assist in the education of the children of Timor Leste.
Lily says "Selling quality coffee beans is a way to support the Timor Leste community, with some of the beans being from Timor Leste. I felt it was important that the product would generate ongoing revenue and profits to provide the consistent financial support that I know the community needs. I enjoy coffee daily, and I'm sure many others do too. Why not make that the way that we can support the school and people of Timor Leste? "


We hope to bring more "Fair Fare" products and their stories to our customers in the times ahead. Real products that make a real difference! As a family-owned Australian company, we are committed to responsibly sourcing wholesome products that nourish both people and the planet.
Please join us on the journey to do some good in the world. Whether it be purchasing this coffee or just spreading the word, anything you can do will help make a difference. With the choices we make, each of us can find a way to give back to people in need & make the world just that little bit better.
Your choice of a simple cup of coffee can be a force for meaningful change.

PS: A BIG thank you to the special people at Monte Sant Angelo Mercy College for their dedication & commitment to the Mercy values, vision and commitment in creating and supporting Project Timor and empowering the young women of the future to make a meaningful difference to the world they live in.