At Honest to Goodness, we work hard to find people as committed to offering up good quality, nutritiously rich food as we are. We are delighted to be partnering with Aussie best friends Heidi and Vasia. We recognised in them a total passion, dedication and commitment to develop something they believed was missing as a consumer choice. In this case, they have developed an innovative range of bases for nut mylks. Not only do these cut waste, they also are handy for storage in the pantry (unopened) and fridge (opened) by taking up far less space.
Over to Heidi and Vasia to share the amazing story behind Ulu Hye Nut Mylk bases: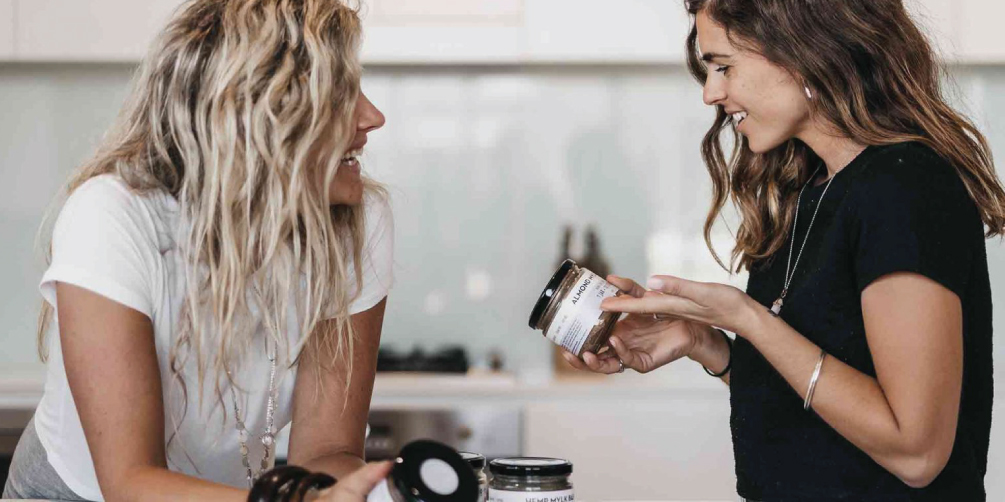 ---
"We are 2 best friends from country Victoria, passionate about sustainability and saving our planet. While we were trying to reduce our household waste, we struggled with how many milk cartons we were using each week, so we dug deeper into the recycling process around UHT cartons and what we found was very disappointing: only a small amount of these cartons were able to be recycled properly, with the majority ending up as landfill. This was the catalyst for us in trying to find a waste-free solution to plant-based milks.
We also looked at the ingredients list of any plant-based milk carton and it was easy to see that it's roughly 95% water! So many questions came to our minds: Why are we paying for mostly water? Why not have a concentrated version? Why are there so many additives and oils in these "healthy" milks? Can these cartons even be recycled properly? This was a huge game changer for us, and we knew there had to be another alternative to using milk cartons and also to making your nut mylk from scratch (which takes time and effort). And so, our "Mylk Bases" were born!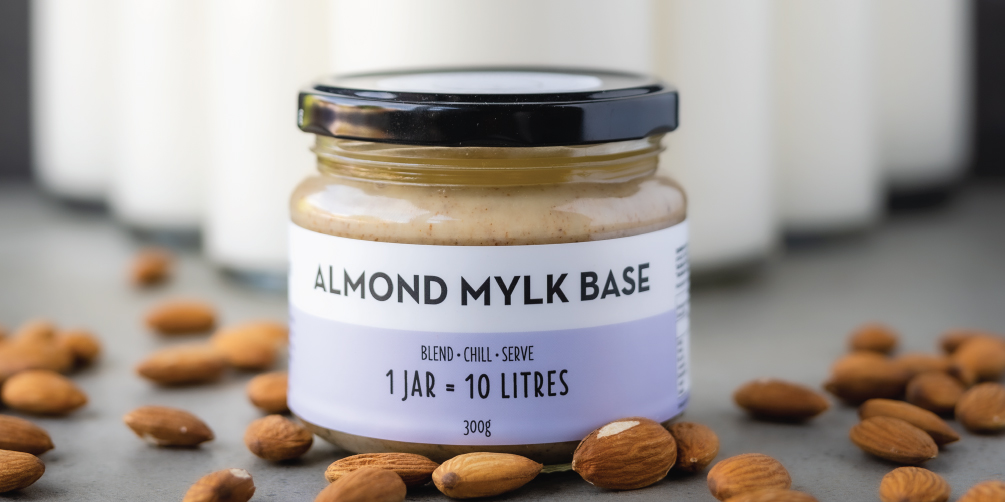 So, what is a "Mylk Base" exactly? Our Mylk Bases are manufactured in a way that makes it a condensed version of what you would find in a plant-based milk carton (but without the water). One small glass jar makes 10 litres of milk and so far we have prevented over 700,000 milk cartons from ending up in landfill, and counting!
All you do is scoop out the base and blend with water for 1 minute to make your own plant-based milk at home. Not only are you saving cartons from ending up in landfill, but gone are the days of pouring half-empty milk cartons down the sink as you only make as much milk as you need, when you need it.
We are proud to be the world's first creators of Mylk Bases that can potentially change the way households consume dairy-free milk and help them reduce their household waste (both rubbish and food waste).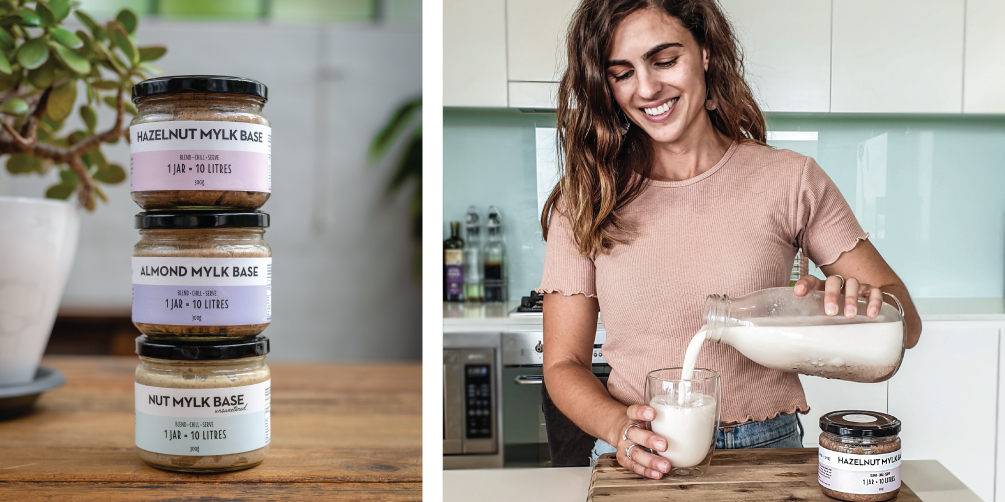 It hasn't always been smooth sailing. An ongoing challenge for us has always centred around education. Consumers think living sustainably is expensive and that it requires effort. We aim to change the perception around this, showing consumers how easy and effortless it can be to make your milk at home while massively reducing your carbon footprint. We know that Australia has very high food waste as a nation, and so we offer a simple, quick solution to throwing away unused food, wasting money, resources and being far less sustainable. Our Mylk Bases don't compromise on time either as it only takes a minute out of your day. We recently won the Food & Drink Category at The Circle Awards Aus & NZ, which celebrates businesses shaping the circular economy. This was a real highlight that small changes really can make a big impact.
Our mission is to save 10 million cartons from ending up in landfill, it's what gets us out of bed in the morning. We aim to continue on this journey and hopefully become a household Australian staple."
---
Nut 'mylk' or nut 'milk' - what's the difference? There is none! They are the same thing. Many people use 'mylk' to denote a plant-based origin and distinguish more clearly from a dairy origin 'milk'.
---