Nature's Best for Health and Vitality
Natural products for health and vitality, tailored to the needs of every individual.
This is the philosophy behind Weleda's natural and holistic skin care. Since the company's beginning over 95 years ago, Weleda has worked to strengthen the balance of body, mind and spirit with its products.
Based on anthroposophy (a philosophy established by Weleda's founder Dr Rudolf Steiner, who viewed the human body, mind and spirit holistically), Weleda uses natural ingredients to provide what a body needs to be vibrant, beautiful and healthy. The natural ingredients give targeted support to your body's own natural processes, boosting internal balance and enhancing your body's ability to nurture and heal.
---
One of the best-known Weleda products is the iconic Skin Food, which has been a beauty staple since 1926. With a multitude of uses Skin Food is a deeply nourishing and intensely hydrating whole-body moisturiser that restores and protects dry and rough skin. From replenishing hand cream to revitalising face mask, this green tube comforts skin battered by daily stresses and cares for the whole family.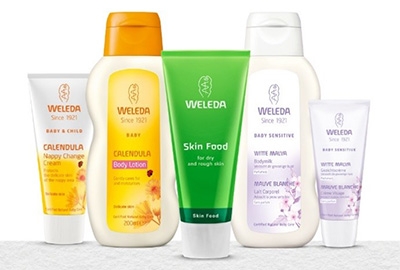 Generations of parents have been trusting Weleda's Baby Care range, which was developed in partnership with midwives to care for baby's delicate skin on a daily basis. Weleda provides all the essentials from Calendula Nappy Change Cream to Baby Teething Powder and the White Mallow range for hypersensitive and eczema prone skin.
---

Commitment to a Healthy Planet
Weleda uses about 1,000 raw materials for their medicinal & natural care products. As they are highly conscious of the impact that sourcing and extracting these materials has on biodiversity, the Weleda gardens have several hundred healing plants growing according to biodynamic farming principles.
What is Biodynamic Farming? It is a cultivation method developed by Rudolf Steiner himself, where farming, livestock breeding, seed production and landscape maintenance are carried under anthroposophic principles to produce excellent quality raw materials. At the same time, it replenishes and maintains the land and its numerous living communities (from microbes to wildlife).

More than 82% of the plant-based raw materials come from certified organic or biodynamic farming, or from a controlled wild collection. This is a figure Weleda continuously works to increase. Dedication to biological diversity is of the greatest importance to Weleda, as without biodiversity there would be no Weleda products.
---

A World of Fair Trade Partnerships
Weleda also sources raw materials from over 50 fair trade farming partnerships around the world – from small and large farms, cooperatives and cultivation projects. They focus on establishing long-term relationships with producers who offer fair wages, support women and respect the balance between work and family. Furthermore, farmers should have the tools and training they need to work safely and should give back to the local community with quality health, education and living schemes.

Weleda also looks for sustainable, organic or biodynamic growing practices, non-GMO ingredients and toxin-free production methods. As a result of its ethics and high standards, Weleda is a member of the UEBT (Union for Ethical BioTrade), which sets inspirationally high standards for sustainability.
---
Beauty You Can Trust
Weleda beauty products are certified by NATRUE, which is the first internationally recognised quality seal for organic and natural product. All of Weleda's skin care products are free from petroleum-derived ingredients, synthetic chemicals, synthetic preservatives, synthetic fragrances, GMOs, and they are never tested on animals.
---