Food Co-ops are retail store outlets selling fresh produce and bulk dried goods, which are cooperatively owned and operated by the people who shop there. Food Co-ops rely 100% on their own volunteers to run the store, rather than by a private or public company. They are generally not-for-profit businesses that choose to put all profits back into the shop and its community.
As Food Co-ops are run by their own members, they have greater flexibility in the selection of products ranged and the price that they are sold. They often choose to source products and goods from local farmers and producers and select suppliers that are ethical, sustainable and organic.
---
WHY SHOULD I SHOP AT A FOOD CO-OP?
Shopping at a Food Co-op is a rewarding experience with many benefits, including some (but not limited to) these listed below:
GREAT PEOPLE & KNOWLEDGE: Volunteers and staff members really know their stuff! The people who operate co-ops work voluntarily and actually shop in-store themselves. This means they not only provide great customer service (since they are customers too!), but they are truly passionate about the cause and also will also have the answers to most of your product questions.
LOCAL SUPPLY: Co-ops prefer to "keep things local" by sourcing fresh, local, organic food and products from producers in the area. This not only benefits local farmers; it also gives community members an opportunity to make informed decisions on the food they buy for their families.
FAIR PRICING: Since co-ops are not trying to make a profit, products are usually priced fairly, therefore saving you money!
LESS WASTE: Co-ops do not buy in the large quantities as major supermarkets do, which means there is less food to go to waste. They focus on buying adequate levels of stock that are low-waste, sustainable products and also aim to keep food milage down. Often co-ops will have bulk food bins, allowing you to bring your own jars and shop packaging free.
CULTURE & COMMUNITY: Food co-ops are a fun and friendly place to shop! The welcoming community culture is a great part of the shopping experience – members often swap recipes, spare bags, share product knowledge and are almost guaranteed to share the same values as you too.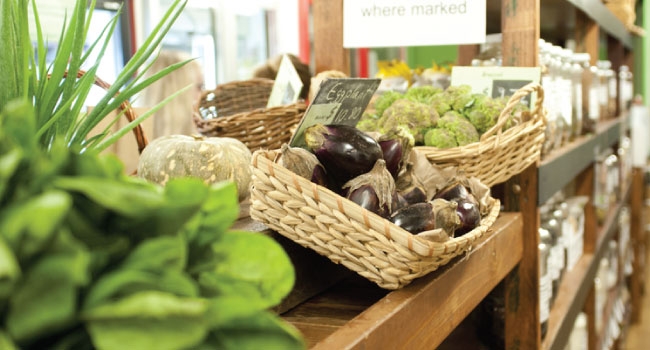 ---
NSW & SYDNEY FOOD CO-OPS
Want to start shopping at your local co-op? Check out some of the Sydney and NSW based cooperatives below:
---
BATHURST WHOLEFOOD CO-OPERATIVE
Bathurst Wholefood Co-operative is a unique not-for-profit organisation dedicated to providing local and organic produce to the people of Bathurst and visitors to our region.
Their store is passionate about good health, good food, supporting local growers and giving the community access to truly fresh produce all year round.
Bathurst Wholefood Co-operative – "Local Food for Local People: Healthy Food for Healthy People".
Email: bathurstwholefood@gmail.com | Phone: (02) 6332 1545 | Facebook: @bathurstwholefoodcoop | Website: bathurstwholefood.org
---
BLUE MOUNTAINS FOOD CO-OP
The Blue Mountains Food Co-op is a member-owned, not-for-profit organisation established in 1981 by a small group of residents seeking to ensure a regular and affordable supply of fresh organic fruit and veg and bulk wholefoods for their local community.
Since its inception, the co-operative has grown to over 2,500 members and now boasts two shops in the Katoomba CBD that sell a variety of grocery items, household and personal care products, all with an emphasis on organic, local, fair trade and sustainable.
10% of this Co-op's annual surplus earnings are donated to local social justice, environmental and food-related organisations. The Co-op seeks to provide an accessible and welcoming shopping environment and shares information to help members and the broader community make informed choices about what they eat and how they live.
Email: hello@bmfoodcoop.org.au | Phone: (02) 4782 5890 | Facebook: @bmfoodcoop | Website: bmfoodcoop.org.au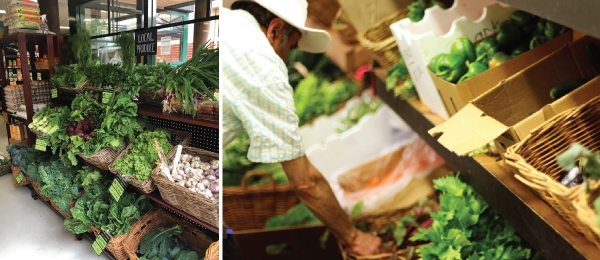 ---
FLAME TREE FOOD CO-OP
The Flame Tree Food Co-op is a community-owned, democratically run grocery store located in Thirroul, a suburb of the Northern Illawarra region on NSW's South Coast.
Flame Tree Food Co-op provides healthy food, with as little packaging as possible and supports local, sustainable growers and producers. Not only do they aim to provide affordable and ethical food to their community, but they are also a meeting place for members and locals who are conscious about reducing their environmental footprint. Flame Tree are proud of the ecologically sound practices they incorporate into their business; from the use of minimal packaging, low food miles, offering products that are fair trade and GMO-free, whilst at the same time incorporating mindful and environmentally sound waste management strategies.
Email: flametreecoop@gmail.com | Phone: 02 4267 5792 | Facebook: @flametreefoodcoop | Website: flametree.coop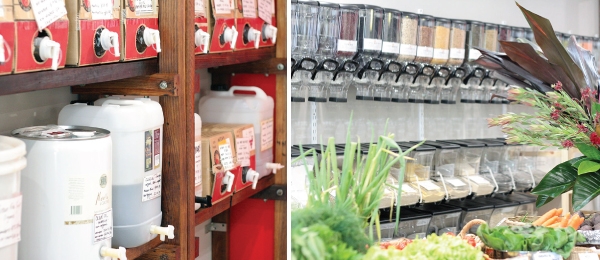 ---
THE MANLY FOOD CO-OP
The Manly Food Co-Op has been around for over 20 years and is Manly's premier organic food and grocery destination, with a strong zero waste and bulk foods philosophy. The community is what makes Manly Food Co-Op special and unique - their lovely volunteers are the heart of the Co-Op. Since moving to a more central location, they have been signing up more and more members and further spreading the word about planet-friendly and low waste shopping.
Email: info@manlyfoodcoop.org | Phone: 0468 413 975 | Facebook: @ManlyFoodCoop | Website: manlyfoodcoop.org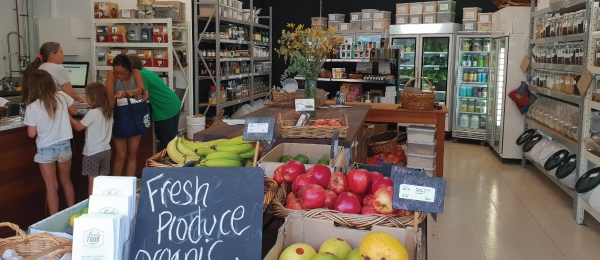 ---
THOUGHTFUL FOODS
Thoughtful Foods is a 100% volunteer-run, not for profit, ethical member-owned and run food co-operative based at the University of New South Wales, Kensington.
As a Thoughtful Foods co-op member you:
Get access to weekly boxes full of amazing organic fruit and vegetables, as well as pre-ordered organic bread, including the online bread and veggies box ordering system.
Receive 10% off the other pay by weight groceries in-store, including snacks or everyday cooking staples
Are able to make your own crunchy peanut butter in-store
Become part of the community through volunteering, with up to 30% discount on most grocery items.
Thoughtful Foods celebrates the diversity of its customers & members - students & staff at the university, as well as residents of the local area. The more people they can introduce to a localised way of sourcing unpackaged organic foods, the better!
Email: info@thoughtfulfoods.org.au | Facebook: @thoughtfulfoodscoop | Website: thoughtfulfoods.org.au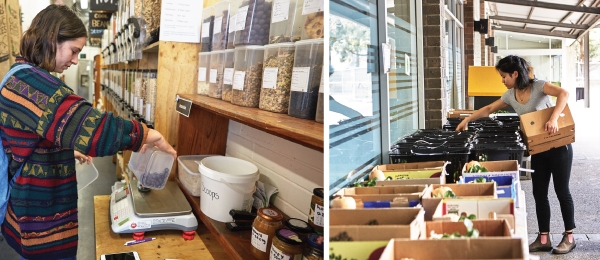 ---
UNIVERSITY OF SYDNEY FOOD CO-OPERATIVE
The University of Sydney Food Co-operative has a regular volunteer team of 50 students who keep the shop open from 9am-5pm, Monday to Friday. It has been operating for 22 years and packs a lot into its tiny shop in the Wentworth Building on the University of Sydney's Camperdown Campus.
They provide affordable, organic, local (where possible) bulk foods, and fresh fruit and vegetables to the campus community (but the local community is welcome and a good proportion of customers live nearby). The Co-op's mission is to improve the fair food scene on campus as well as provide an alternative space on campus for their members to wander into!
Lots of their products are sourced from Honest to Goodness but they also support a wide range of local producers and manufacturers. Their weekly fruit and veg box order total are usually around 30 boxes and you can find their volunteers working on the co-op balcony surrounded by produce every Wednesday during University semester.
Email: usydfoodcoop@gmail.com | Phone: (02) 9563 6059 | Social Media: @usydfoodcoop | Website: usydfoodcoop.org