Wholegrain Milling Co. is our supplier of high quality, 100% certified ASP and organic flours. Based in Gunnedah, NSW, this family-owned business produces nutrient-dense, superior stoneground and roller milled flour from Australian grown grains.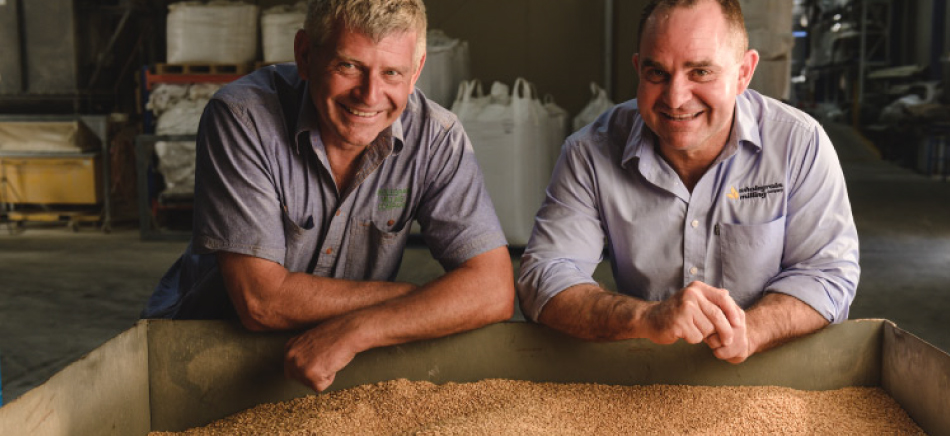 FROM HUMBLE BEGINNINGS
The Wholegrain Milling Co. story begins in the Neale family kitchen.
Wendy Neale, who suffered from chronic illnesses and food-related allergies, began stone-grinding her very own flour on the kitchen table with a small bench-mounted stone mill.
Both Wendy and Harry Neale were passionate about good health and helping others, believing wholeheartedly that other people could also benefit from organically grown grains. It was then in 1984 when they started the Wholegrain Milling Co.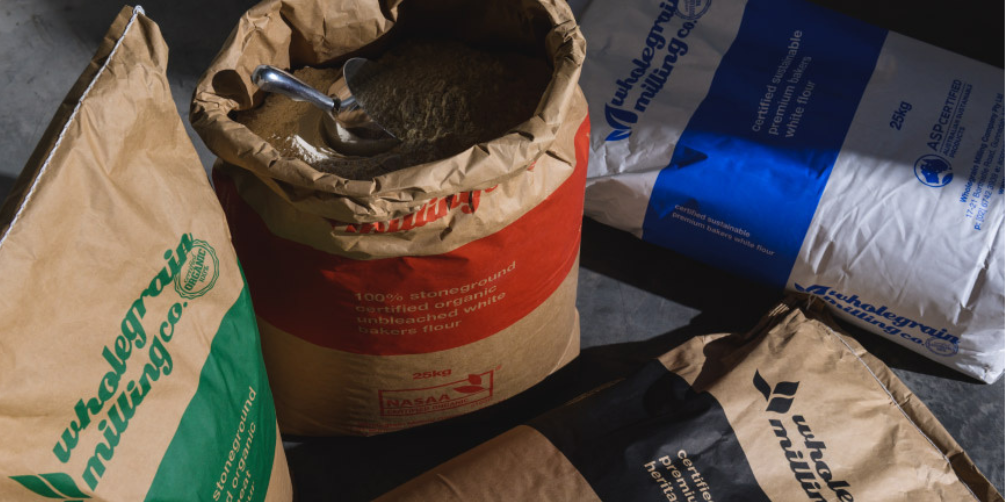 The initial road as an organic supplier was a hard one as organics were not widely known or understood at the time. Their customer base was minute, starting with just one customer on the first day. This grew to only seven in the first ten years!
Wholegrain Milling Co. has since then grown, now bearing an extensive milling complex with over 120 grain silos, eight stone mills, state-of-the-art roller milling, automation and the latest technologies.
---
GROWING AND PROCESSING
Managing Director Craig Neale designed and built the specialised stone mills using imported European millstones alongside other specialised and custom-made milling equipment. These mills produce the signature flours that are unique to Wholegrain Milling Co.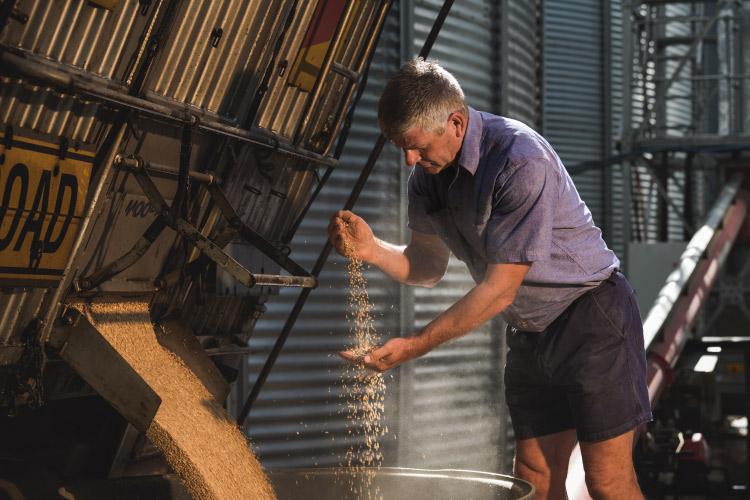 The company sources the best organic grains available, which are obtained from farms throughout the heart of Australia's eastern states. Wholegrain Milling's grains are planted and harvested by farmers who care about the long-term health of the soil.
Wholegrain Milling also provide a Sustainable range where grains are sourced from ASP certified farms. These farms are focused on improving soil health and long-term environmental sustainability of the land they farm on.
These grains are then ground using our stone or roller mills to create the finest quality, chemical-free & sustainable flours for bread lovers everywhere.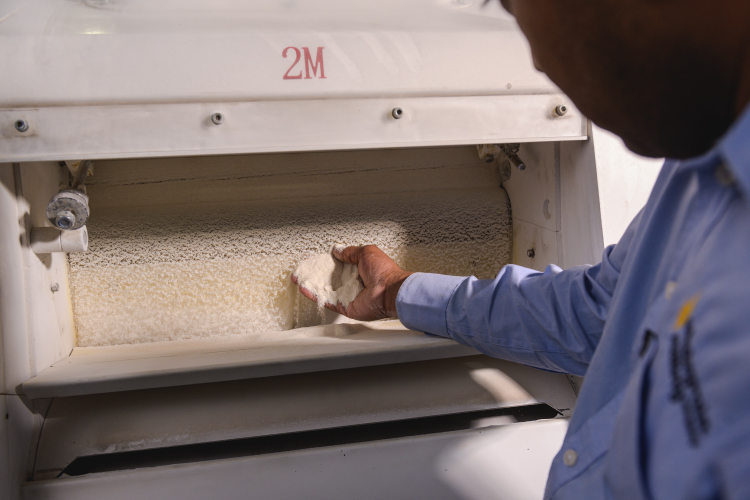 ---
WHAT MAKES STONEGROUND AND ROLLER-MILLED SUPERIOR?
STONE MILL: allows the highest nutrient content of the grain to be retained and distributed evenly throughout the stone-milled flour. Stone milling ensures the quality, taste and nutritional integrity of whole grain flour as it integrates all parts of the wheat into the product, allowing the flour to retain more flavour. The cooler temperatures that occur during stone milling preserves essential enzyme activity.
ROLLER MILL: creates a more refined 'white' flour that has a milder flavour and smoother texture that is particularly desirable for bread making. Roller milling is specifically designed to efficiently extract as much white flour as possible from each grain.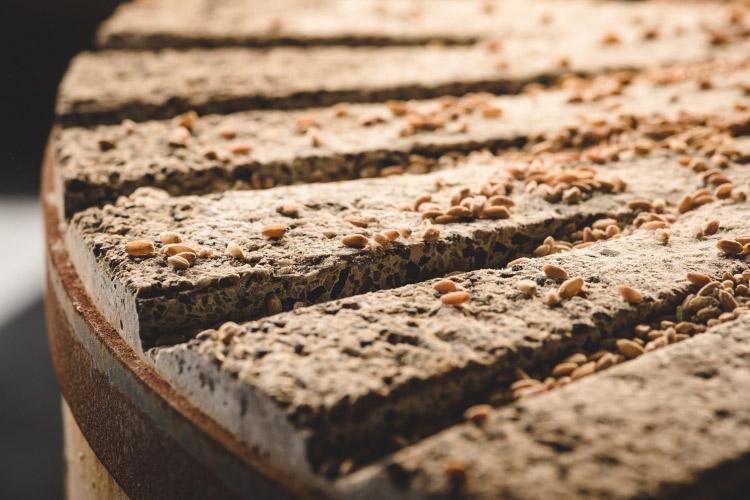 ---
DEMETER FARM MILL RANGE CHANGE
In 2007, Wholegrain Milling Co. expanded by taking on a complementary and exciting business: Demeter Farm Mill. Demeter Farm Mill is a long-established and widely recognised supplier of quality organic and biodynamic products.
"Demeter" is a registered trademark in Australia that guarantees the integrity of certified biodynamic products. Biodynamic farming places emphasis on the integration of crops and livestock, recycling of nutrients, maintenance of soil, and the health and well-being of crops and animals.
Taking on the Demeter Farm Mill label has enabled Wholegrain Milling to provide consumers across Australia with a much wider range of smaller packaged and highly nutritious flours, which complement their traditional range of grains and flours.
As of May 2022 Wholegrain Milling Co decided to rebrand the Demeter Farm Mill products and switch all flour over to Wholegrain Milling Co. There is no change in the flour, how it is prepared, milled or where this is all done. Simply, the name has just changed along with the packaging.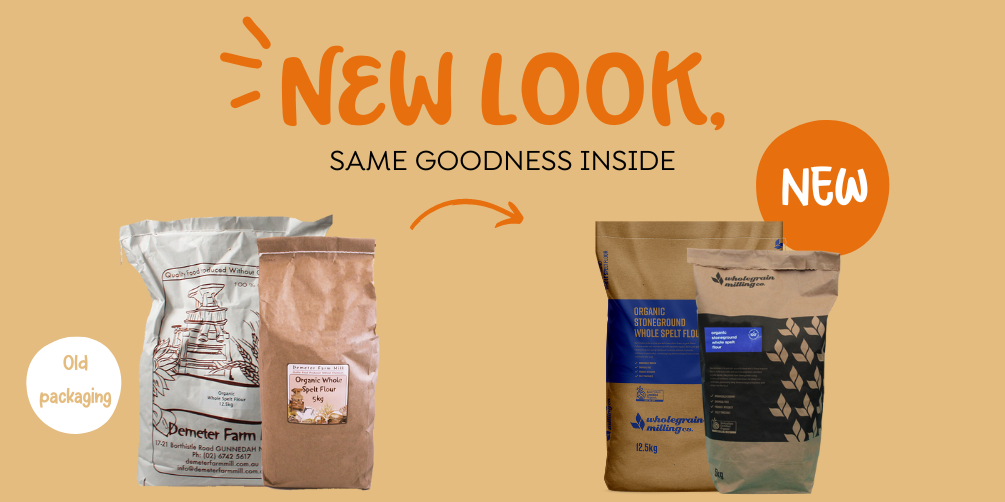 ---