Fair Fare is an Honest to Goodness established certification that will support the new and growing charitable sector of our business – 'Giving Goodness Back.'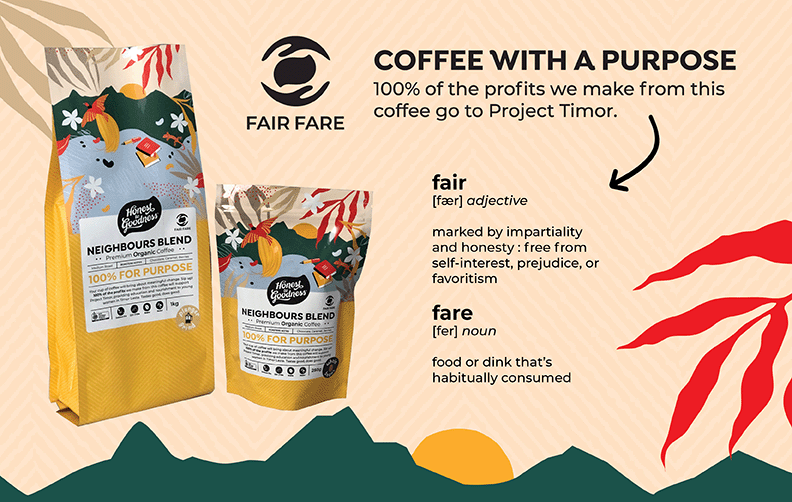 What is 'Fair Fare'?
Fair Fare is an internal certification we use at Honest to Goodness. It is used on products that have an extra special story about where they have come from and meet our internal criteria for carrying the logo which includes ethical and sustainable sourcing. When you purchase a product carrying this logo you can be confident you are doing some good for the world.
The first of our products to carry this logo is our Organic Neighbours Blend Coffee. This coffee was ethically sourced from organic, local community farms in Timor Leste, Sumatra & Papua New Guinea and locally roasted here in Sydney. 100% of the profits that Honest to Goodness generates from the sale of this coffee is donated to Project Timor. Project Timor provides the opportunity of a quality education and essential nourishment to young women in the community of Maliana, Timor Leste to help them build a sustainable and better future.

---
Why Project Timor?
One of the daughters of the founders of Honest to Goodness, Lily, visited Timor in 2019 when she was 16 on a school immersion and was very moved by this experience. Upon returning home, she set about thinking how she could support and give back to this community whilst back home. Upon discovering that Timor grows and sells coffee, and that Australia's love a good cup of coffee, she set about creating this product.
At the start, the plan was to have a Single Origin Coffee from Timor. However, working with a local roaster, it soon became apparent that we could develop a much rounder, better flavoured, more delicious coffee with a variety of ethically sourced beans from some of our neighbours - one of which is Timor Leste. Bringing this coffee to the Australian market means the people of Timor (and some of our other neighbours) can benefit from the trade of the coffee, we get to enjoy the delicious coffee and as an added bonus the funds raised will be returned to Timor to assist in the education of their future generations.
We hope to bring more "Fair Fare" products and their stories to our customers in the times ahead. Real products that make a real difference! As a family-owned Australian company, we are committed to responsibly sourcing wholesome products that nourish both people and planet and appreciate the opportunity we have, with our customers support, to give back.