Whether you're dairy intolerant, vegan, or just fancy a change, nut milks make a great alternative to cow's milk.
Making homemade nut milk from scratch is actually an incredibly easy process. With just two ingredients and a nut milk bag, you can create a naturally sweet and creamy milk that's perfect for smoothies, granola, and more!
Follow our recipe below to make your own nut milk:
---
HOW TO MAKE HOMEMADE NUT MILK
1. Soak 1 cup of your desired nuts (raw almonds, cashews or hazelnuts are popular choices) overnight.
2. In the morning rinse and drain your soaked nuts and blend on high speed with ¾ cup of filtered water. At this stage feel free to add any flavor additions to customise your nut milk.
3. Finally, strain the liquid through your nut milk bag for a silky, smooth plant-based milk. No pasteurising, additivities, preservatives, or nasties necessary!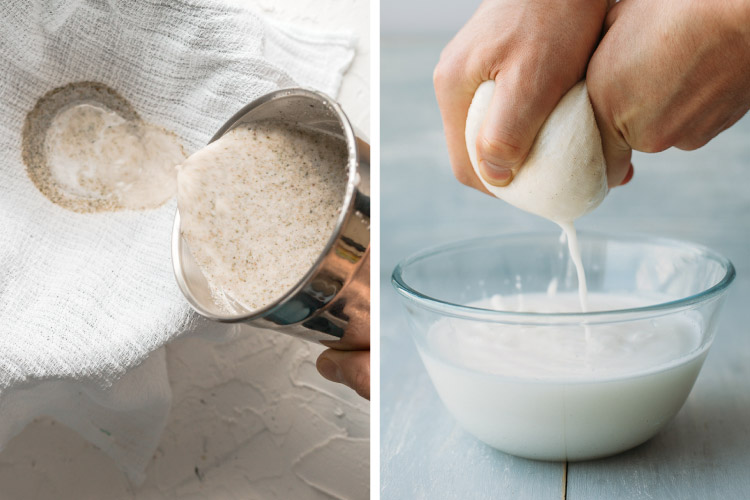 ---
HOW TO USE THE LEFTOVER NUT MILK PULP
Do you enjoy making nut milk but aren't sure what do with the leftover pulp? It's such a shame to toss out all that goodness, so to help you make the most of your nut milk pulp, we have created a list of our favourite ways to use it all up. From wheat-free flour, to crackers and bliss balls... the possibilities are endless! Find our list here.
---
PLANT-BASED ALTERNATIVES
Want something different? Try these other plantbased alternatives in place of nuts:
Oat Milk: use 1 cup of organic steel-cut oats (soaked).

Soy Milk: use 1 cup of organic soya beans (soaked)- remove outer skins before blending with water

Pumpkin Seed Milk: use 1 cup of organic pepitas (soaked).

Hemp Milk: use 1/2 cup of Australian hemp seeds.

Coconut Milk: use 2 cups of organic shredded coconut. Rice Milk: use 1 cup cooked organic brown rice.

Quinoa Milk: use 1 cup cooked organic quinoa.