Creating your own plant-based milk is super easy! You can make the most delicious homemade milk in just minutes, adding any ingredient you may desire.
But what do you do with all the leftover pulp? It's such a shame to toss out all that goodness, so to help you make the most of your nut milk pulp, we have created a list of our favourite ways to use it all up below:
---
ALMOND FLOUR
Line a tray with baking paper and preheat your oven to a low 150°C. Transfer pulp to the baking sheet, and break into smaller pieces.
Bake in the oven for 30-60 minutes, or until mixture is dry and flaky. Give it a mix every now and again, breaking up larger pieces to help it evenly dry out.
Once dry, pulse the flour in a high powdered blender or food processor until flour is fine and no large chunks remain. Store in the freezer until ready to use.
---
WHEAT FREE BREAD CRUMBS
Spread your nut milk pulp onto a baking-lined tray and dry it at your oven's lowest temperature. Once your pulp is dry, roughly crumble it up and use in place of bread crumbs as a topping or breading.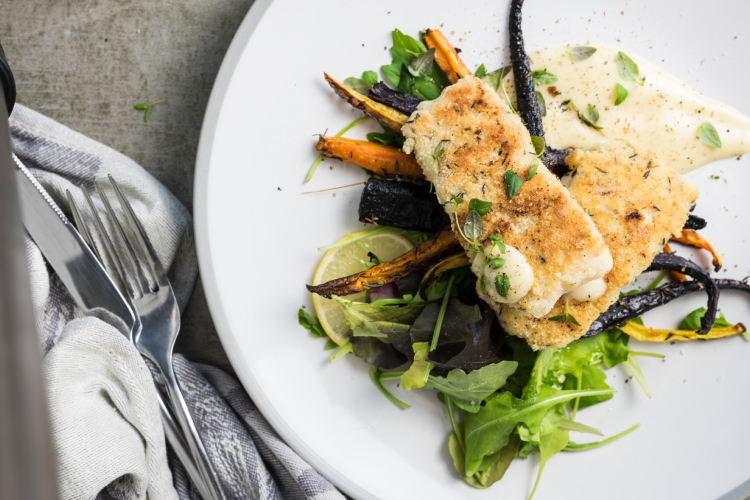 ---
GRANOLA
After creating your milk, you'll need something to enjoy it with – so why not create tasty granola using the leftover pulp!
Ingredients
3 cups organic rolled oats
1 cup nut milk pulp
1/4 cup hemp seeds
1/3 cup organic coconut oil
1/3 cup organic brown rice syrup
1/3 cup organic coconut sugar
1/3 cup almond butter
2 tsp vanilla extract
1/2 tsp Himalayan salt
1 cup organic coconut flakes
Method
Preheat oven to 150°C. Line two trays with baking paper and set aside.
Combine rolled oats, almond pulp and hemp seeds in a large bowl.
In a small saucepan, combine coconut oil, brown rice syrup, coconut sugar, almond butter, vanilla extract and salt. Heat on low, stirring regularly. As soon as the mixture is warm and smooth, gently pour it over top of the dry ingredients
Use a spatula to combine, working quickly to incorporate.
Gently stir through coconut flakes.
Divide mixture evenly onto lined baking trays.
Bake granola for 40-50 minutes, or until golden brown. Stir every 15 minutes to ensure even cooking. Remove from oven and let fully cool before transferring to a sealed container.
---
SMOOTHIE BOOSTER
Add 1-2 tbsp of pulp to your smoothies for a great source of natural fibre. Plus the pulp is ideal for creating thicker, creamier smoothies!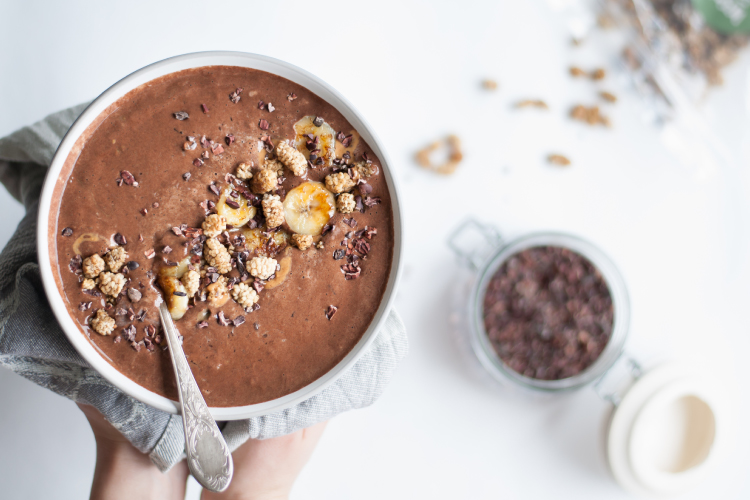 ---
BLISS BALLS
Bliss balls are easy, tasty snacks that perfect to take on the go! You can change the ingredients to create your own flavour combinations or suit whatever you have in the pantry.
Ingredients
2 organic Medjool dates - pitted and soaked in hot water for 5 minutes
1 cup nut milk pulp
4 tbsp organic cacao powder
1/3 cup almond butter or coconut butter
2 tbsp organic hulled tahini
2 tbsp organic chia seeds
1 tbsp organic coconut oil
Pinch organic cinnamon
1 tsp vanilla extract
Method
Drain dates and add them to a high-powered blender or food processor with the rest of the ingredients. Process until thoroughly combined.
Roll the mixture into bite-sized balls.
Coat the balls if desired and enjoy! Keep refrigerated in an airtight container for up to a week.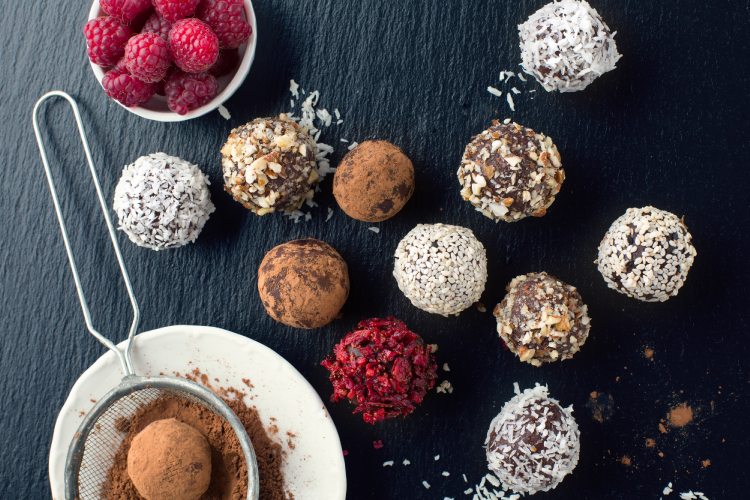 ---
ALMOND PULP HUMMUS
Create a dairy and legume free dip! This hummus is full of protein, flavour and absolutely delicious with seedy homemade crackers.
Ingredients
1 cup almond milk pulp
1/3 cup organic tahini
Juice of 1 lemon
¼ cup organic olive oil
1/3 cup water
1 clove of garlic
½ tsp Celtic sea salt
½ tsp organic black pepper
1 tbsp nutritional yeast
1/4 tsp organic chilli flakes (optional)
Method
Add all of the ingredients to a high-powered blender or food processor and blend until well combined, thick and creamy. Taste test and season as required. If the hummus is too runny, add more almond pulp and if it is too dry, either add more liquid (tahini, water, olive oil).
Store in fridge in an airtight container for up to 5 days.
---
FRUIT CRUMBLE
Fruit crumbles are a quick, easy and delicious dessert and a great way to use up leftover pulp.
Combine your fresh nut milk pulp with a little maple or honey until the mixture resembles coarse breadcrumbs. You can add some shredded coconut, pepitas, whole oats or almonds for texture and crunch. Generously sprinkle the crumble over berries, peaches, pears or apples (or all of them) then bake in a moderate oven for 30 - 40 minutes.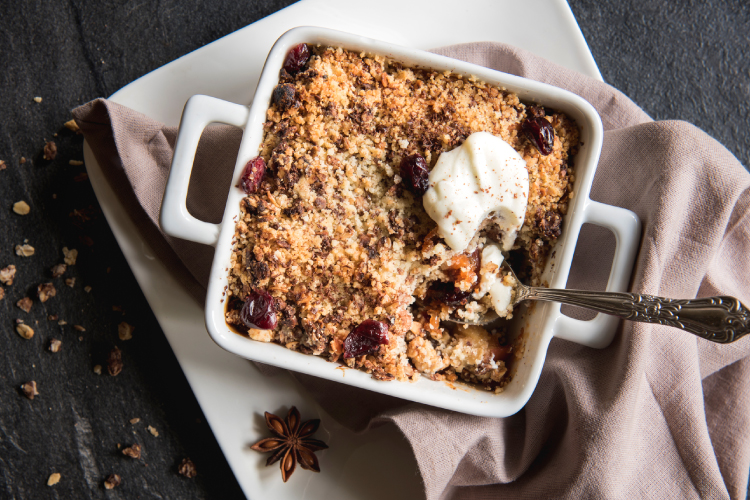 ---
WHEAT FREE CRACKERS
Ingredients
1 cup nut milk pulp
3 tbsp organic olive oil or coconut oil
1 tbsp ground linseeds or chia seeds
1/4 tsp fine Celtic sea salt
2 tsp dried herbs, such as chives, rosemary, or parsley
1 garlic clove, minced (optional)
Water, as needed
Method
Preheat the oven to 180C
Combine the ingredients into a soft dough. If the dough looks dry, add water one tablespoon at a time, just until it can easily be pressed together between your fingers.
Place the dough between two sheets of baking paper, then roll out evenly (The thinner the dough, the crispier the crackers will be).
Cut the dough into even squares, then place onto a lined baking tray.
Bake at 180C for 15 - 20 minutes. Flip the crackers and bake for another 5-8 minutes or until crisp and golden.
---
NATURAL EXFOLIANT
Oat and almond pulp can be used as a naturally exfoliating ingredient in DIY body scrubs or face masks.
Simply, combine 2 tablespoons of leftover pulp with 2 teaspoons of honey or coconut oil. Gently massage into the skin, then rinse with luke-warm water.
---
CHICKEN FEED
Have chickens in your backyard? Feed them your left-over pulp! They will absolutely love you for it + you can save on buying chicken food.
---