A Chia Pudding makes an easy breakfast, quick snack or after-dinner dessert. The basics of a Chia Pudding are simply chia seeds and milk. Organic chia seeds are packed full of omega 3 and plant-based protein, giving you plenty of fuel for the day and satisfying your hunger.
Heres how to make a basic Chia Pudding: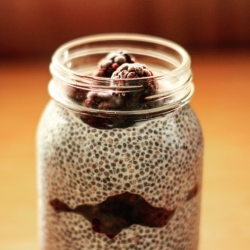 INGREDIENTS:
METHOD:
In any jar with an airtight lid, add ingredients and stir well with a spoon or fork.
Let the mixture sit for 5 minutes and stir again to ensure all chia seeds are incorporated.
Refrigerate overnight or for at least 4 hours.
Stir well before eating and sprinkle over your favourite toppings.
GOODNESS TIP: Make your chia pudding extra delicious by adding fruit, nuts, seeds, cinnamon, coconut, cacao or superfood powders - the possibilities are endless!
---
THE CHIA PUDDING EXPERIMENT
Did you know: the secret to a perfect chia pudding is actually in the milk!
So which is the best milk to use? We decided to put it to a test. We experimented with 4 different kinds of milk to see which one made the creamiest and delicious chia pudding.
We used:
Organic Dairy Milk
Organic Cocoquench (Coconut Milk)
Organic Activated Almond Milk
Organic Bonsoy (Soy Milk)
---
HYPOTHESIS
Most of Team Goodness predicted Organic Dairy Milk to come out on top, due to its naturally high fat and protein content.
---
METHOD
We took 4 identical jars and placed 1 tablespoon of Organic Chia Seeds in each. We pour 5 tablespoons of milk into each jar and shook them up to combine. They were then left in the fridge overnight to work their magic.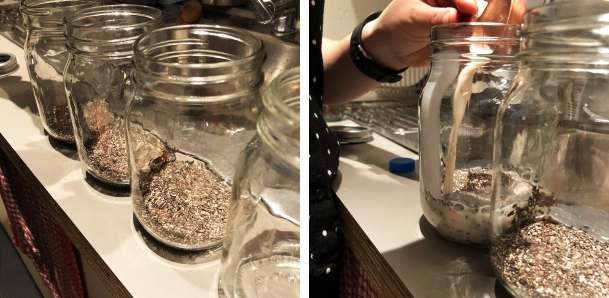 ---

RESULTS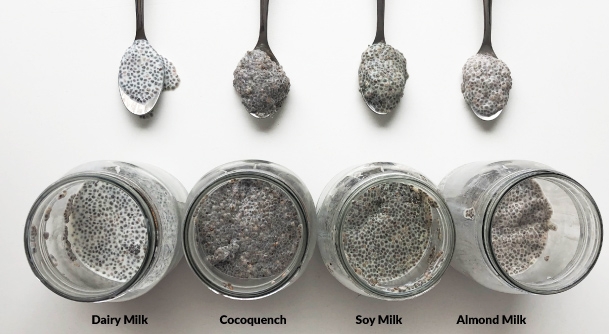 The pudding made with Cocoquench had absolutely no liquid left. It made a very thick pudding, but it was quite gelatinous (more like a chia egg) rather than creamy.
The soy and almond milk both created quite similar puddings, with the soy slighter more absorbed, but the almond creating a creamier texture.
Our pick of the bunch dairy milk seriously let us down with an extremely runny pudding – more of a chia milk drink!
---

CONCLUSION
After a hard deliberation, weighing up the pros and cons, Team Goodness has decided that we would choose ORGANIC ALMOND MILK as the best milk for a chia pudding! It was not too thick and not too runny with a delicious creamy texture.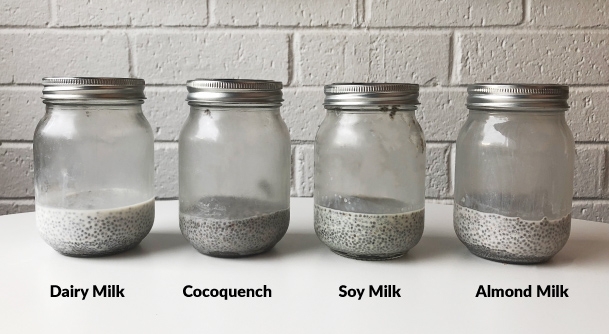 Of course preferences and dietary requirements may mean you have to choose a certain milk for your pudding. If you are using coconut milk, add a bit more to create less jelly and more pudding or try our Organic Coconut Milk as it is naturally creamier! If using dairy milk, add a bit less and skip the skim option – full cream is best. You could even try combining milks to get the best of both worlds!
Which milk do you prefer for your chia puddings? Let us know in the comments below >>