We appreciate your patience and understanding as we navigate the changes that global food security challenges and several bouts of devastating weather has brought upon us all. We want you to know that Honest to Goodness is unwavering in our commitment to provide the highest quality, ethically sourced, value for money products and we are working hard behind the scenes to ensure continuous supply of all your Honest to Goodness favourites and must haves.
What products are currently facing supply challenges?
1. Organic Red Split Lentils - changes in Australian biosecurity laws have made this product increasingly hard to import. Certain countries that are sources of this product, such as Turkey, have in addition started food security measures, limiting or banning exports to ensure food supply for their own country.
2. Organic Chia Seeds - a large portion of South American chia seed crop failed last year due to a severe frost, placing high demand on a low crop yield. We are waiting on the new harvest unaffected by the last harvest's crop yield reduction to come into Australia. It is due later this month (end June 2022).
3. Organic White Basmati Rice - changes in Australian biosecurity laws have made this product very hard to import however we have a batch arriving in the coming months.
4. Biodynamic Rain Fed Rice 25kg - excessive record rains have placed the crop under a delayed harvest and we await an update from the supplier. This is a unique and innovative product to this supplier, so some of our customers who love this unique rice as much as we do are stocking up!
5. Organic Currants - waiting for new harvest to be packed and shipped, due in the next few weeks.
6. Sulphur Free Fruit & Nut Muesli - organic currants are a key ingredient within some of our muesli range, resulting in delays in our in-house production of some of our mueslis. We carry an extensive muesli range that is not affected, so this could be a great time to browse our range by searching 'muesli' to try out one of the other delicious nutritious mueslis in our range!
7. Organic Brazil Nuts - the last crop was short, meaning we are currently out of stock online (we have limited stock available in our Alexandria store). We anticipate these will be back in stock online in August.
---
How can I know when something comes back in stock?
Go to the product listing on our website.
Enter your email address (where highlighted in yellow) then make sure to hit the green 'notify me' button.
You will receive a notification email when the product becomes available. This is the best way to ensure you can re-stock on your favourites as soon as they are in stock.
---
Asides from online, where else might I find product?
Our Honest to Goodness House is our bulk wholefoods store, based at 100 McEvoy St in Alexandria in Sydney. We often find that it can hold the last available pockets of stock.
Free customer parking and great value packaging free bulk bins wholefoods are available, as well as our discounted 'imperfect picks' such as slightly dented cans.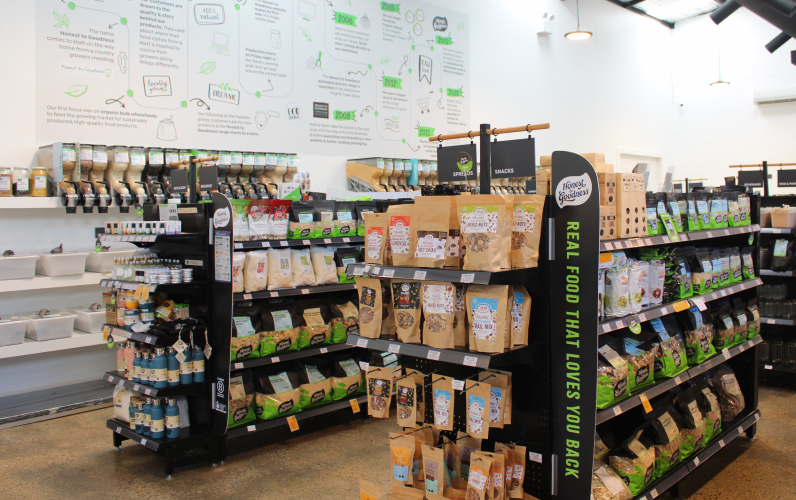 ---
Anything other updates?
Given the food availability and weather challenges that are happening both locally in Australia and globally, we have seen customers stocking up even more on key staple lines that are their favourites and have a long shelf life.
In our buying groups, many are buying up more cases and bulk lines, ensuring they are buying at today's price whilst benefitting from buying with others to get wholesale pricing. Now might be a time to consider starting a buying group with a couple of friends or family, your neighbours, your book club or other parents at school. Buying groups come in all different types of community!

In the meantime, we continue to do our utmost to keep our prices accessible, whilst maintaining our twenty year commitment to partnering with farmers and suppliers with fair and ethical pricing, and always our commitment to sustainability and product quality.
Thank you for your patience, and thank you for shopping with us, and supporting our commitment to better quality, more sustainable and more ethically sourced high quality fare for all Australians.
Team Goodness