Coconut Aminos is a gluten-free, vegan, soy-free and GMO-free seasoning sauce made from the sap of the coconut tree blossom. Coconut Aminos is often used as a healthy alternative to soy sauce that is otherwise known to be very high in sodium and contain nasty added chemicals.
Organic Coconut Aminos is an amazing, nutritious condiment to stock in your healthy pantry at home. It has a low GI and is also a rich source of minerals, B vitamins and other nutritious goodness! As the name suggests, Coconut Aminos are naturally rich in amino acids, containing 17 different types. Amino acids are the basic building blocks of the body and are therefore essential to our overall health and nutrition.
---
HOW ARE COCONUT AMINOS MADE?

Honest to Goodness Organic Coconut Aminos is purely made from partially fermented organic coconut sap, plus a little natural sea salt, and nothing else!
Firstly, the coconut sap is hand-harvested or "tapped" from the trees above, then naturally fermented and aged in clay pots. It is then heated and evaporated together with a touch of natural sea salt. The pictures below are from our recent trip to Sri Lanka, where we were able to see first hand the amazing harvesting skills and techniques of collecting the coconut blossom sap! We tasted the fresh coconut sap and also witnessed how the heating and evaporation occurs on the organic coconut farm.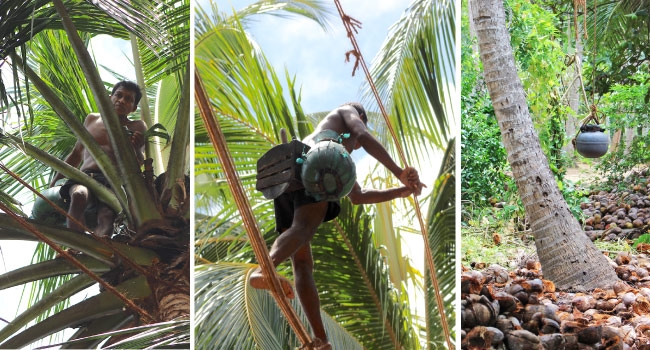 Carefully and cleverly hand-harvesting the organic coconut sap from high above, before lowing down below...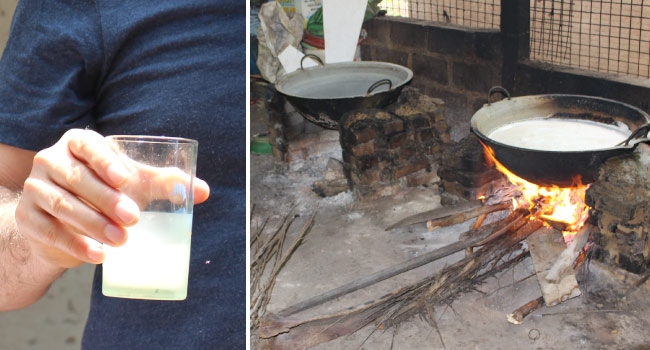 Fresh organic coconut sap is milky white prior to the heating process
---
HOW TO USE COCONUT AMINOS
Coconut Aminos has a similar taste to tamari sauce or soy sauce but is less salty and also has a slight hint of sweetness. You can use Coconut Aminos as a 1:1 substitute for those soy-based sauces in your cooking as it is great for making dressings, marinades and dips, or can be used to enrich the flavour of sautéed veggies, rice, stir-fries and soups. Coconut Aminos also makes the perfect healthy dipping sauce for sushi and dumplings!
---
COCONUT AMINOS BENEFITS
Coconut Aminos is a very popular product for a variety of reasons. It sought after by many people following a paleo diet, however with its own unique and delicious flavour, Coconut Aminos is now a must-have staple in everyone's healthy pantry.
As Coconut Aminos is soy-free and gluten-free, it is a commonly used condiment by people suffering from allergies or food sensitivities and seeking a healthy, tasty seasoning sauce.
It has 65% less sodium than soy sauce, so it is also a popular choice for those looking to lower their sodium intake.
---
WHERE TO BUY COCONUT AMINOS
Organic Coconut Aminos is available from our online shop or Sydney store. Otherwise, contact us to find a retailer near you that stocks Honest to Goodness Organic Coconut Aminos.