We've created a list of our top 5 foods for improving your wellbeing this Spring!
---

ORGANIC OMEGA SEED MIX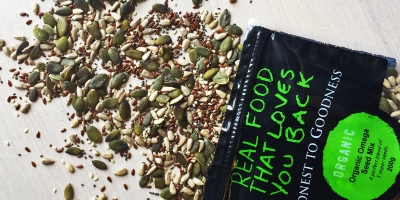 The seeds in the Omega Seed Mix contain high amounts of omega 3 & 6 which are also known as 'fatty acids'. Fatty acids are important for all systems of the body to function normally, including your skin, respiratory system, circulatory system, brain and organs. Fatty acids also have anti-inflammatory effects, which helps with the recovery of tired muscles. Omega 3 and 6 are not produced naturally in the body so they must be ingested.

Our Organic Omega Seed Mix includes:
Chia Seeds
Brown Linseeds
Sunflower Seeds
Pepitas
Sesame Seeds
All of which are naturally high in Omega 3 & 6 (fatty acids).
---
ORGANIC COCONUT VINEGAR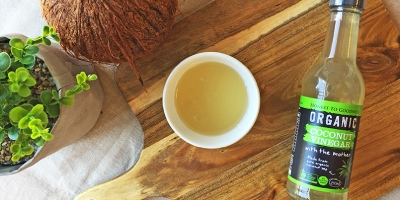 Organic Coconut Vinegar is made by naturally fermenting the pure, sweet sap of the organic coconut blossom. Because it is raw, unfiltered and unpasteurised, coconut vinegar contains living probiotics and enzymes also known as the 'mother'. The 'mother' promotes digestive health as it is rich in enzymes, which breaks down our food allowing us to make the most of all the nutrients that enters our bodies.

Coconut vinegar has a low GI and is calorie free, therefore won't spike your blood sugar. The potassium contained in coconut vinegar is important in balancing electrolytes, controlling high-blood pressure and metabolising sugar.
Read more about our Organic Coconut Vinegar here >>
---

AUSTRALIAN MANUKA HONEY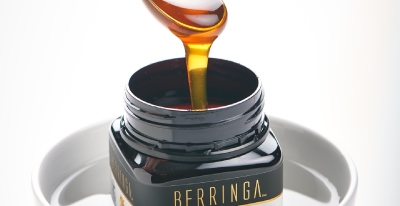 Manuka honey contains natural antibacterial properties, which are valuable for warding off cold and flu symptoms, improving digestion, promoting oral health and healing minor wounds/burns. The main difference between simple Raw Honey and Manuka honey, is that Manuka's nutritional value is 4x higher in strength.
Manuka can be ingested orally or applied topically. It is said that when ingested, the antibacterial properties of the Manuka eliminate bad bacteria (colds, infections etc) and encourage the growth of good, probiotic gut bacteria. It can also soothe irritations such as a sore throat.
---

ORGANIC BLACK BELUGA LENTILS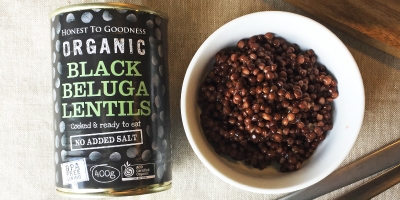 These lentils get their dark colour from high levels of anthocyanins – an antioxidant also found in other dark foods such as blueberries, plums, and cherries. Anthocyanins are renowned for their memory-boosting, free-radical cell removing and heart-healing properties.

Just a half cup of cooked Black Beluga Lentils packs in about 12 grams of protein and 9 grams of fibre, both of which help to keep you full and energised.
---

LEAFY GREENS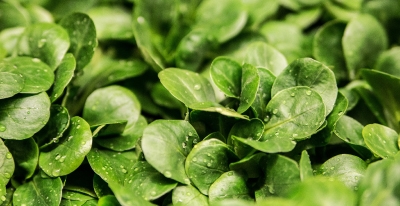 Leafy greens such as spinach and kale are valuable sources of vitamin K and essential minerals for everyday health. They are also a natural source of iron and calcium, important for bone and muscle strength. Greens are essential to establishing a healthy body and immune system and help to strengthen the respiratory system, purifying the blood and aid in removing free-radical cells.
---
SUPERCHARGED RECIPE: Lentil & Beet Spring Salad

A salad is a great way to combine a range of health foods into one nutritious meal. When done right, there's nothing better than devouring a big bowl of nutritious ingredients covered in a delicious dressing.


We have created this super Spring salad which includes all of the Spring staples so you can nourish your body with goodness!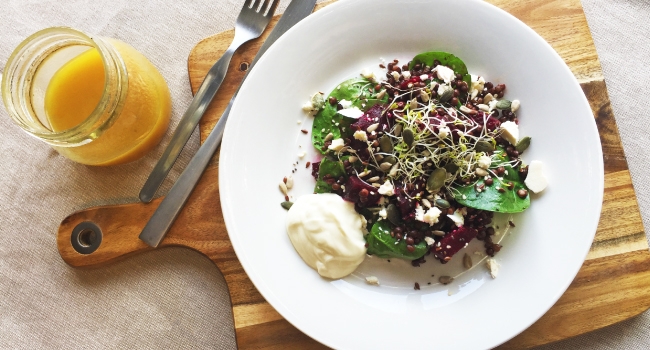 Salad:
2 large beetroot, boiled, peeled & cubed
1 cup baby spinach
1 can Organic Black Beluga Lentils
1 cup greek yoghurt
1 cup fresh sprouts or micro greens
1/4 cup Organic Omega Seed Mix
Handful of feta
Optional additions:
½ cup capers
Avocado
Basil


To assemble, combine the lentils, cubed beets, and spinach in a bowl. Toss with a small amount of vinaigrette, adding more as necessary but ensuring the salad doesn't become soggy. Serve with a handful of micro greens, a sprinkle of omega seed mix, crumbled fetta and a dollop of yogurt. Season with additional salt and pepper as needed.
Coconut Vinegarette: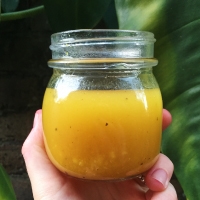 3 fresh garlic cloves, crushed
2 tbsp fresh lemon juice
1/3 cup Organic Extra-Virgin Olive Oil
5 tbsp Organic Coconut Vinegar
2 teaspoons Dijon mustard
1/4 cup Australian Manuka Honey
Salt and pepper to taste
Combine all ingredients together in a small bowl. Whisk until well combined. Taste and adjust seasonings as desired. Store in jar until ready to use.
Makes 3-4 servings