COCONUT FLOUR is a grain-free flour rich in nutrients, which is produced from coconut flesh. It is becoming popular for gluten-free and paleo baking, or for those looking for a healthy alternative to any wheat-based flours.
---
HOW IS COCONUT FLOUR MADE?
Organic coconut flour is a soft flour produced from dried coconut meat. After extracting the milk and oil from the coconut meat, the remaining flesh is then dried at a low temperature and ground until a fine powder is produced. No chemicals, bleaching or nasties are added during this process.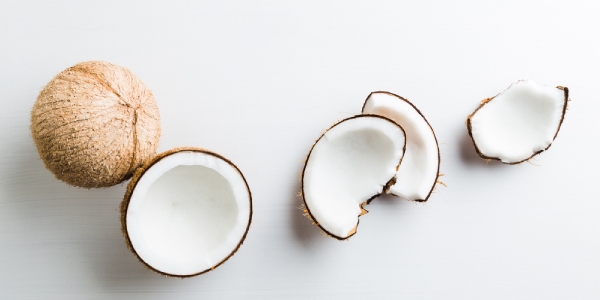 ---

BENEFITS OF COCONUT FLOUR
Can be used to create breads, cakes, pies and so much more!
A great source of plant-based protein, with just over 12g per 100g of coconut flour
Coconut flour is low carb which is beneficial for those looking to reduce their carbohydrate intake
Made from the flesh of coconuts, this fibre is wheat free, making it suitable for many diets including gluten-free, paleo & plant-based
Coconut Flour is naturally high in fibre, around 38.5% - the highest percentage of dietary fibre found in any flour
Being rich in protein, fibre and fat, coconut flour is exceptionally filling
---
HOW TO USE COCONUT FLOUR
Although coconut flour has a similar consistency to wheat flour, it definitely does not behave in the same way! So here are some tips to get you going on your coconut flour baking adventure…
Coconut flour can be used in both sweet and savoury recipes. It is unsweetened and has a delicate coconut smell and taste, however, is not overpowering. While it has a light, airy appearance and texture when dried, it becomes quite dense when cooked with or baked.
Because coconut flour is high in fibre, it absorbs more liquid than regular wheat flours – this makes it perfect for denser baked goods and thickening soups or stews. It is important to add enough liquid to your recipes to avoid a dry and crumbly result.
We recommend an equal ratio of liquid to coconut flour (e.g. 2 tablespoons of water for every 2 tablespoons of coconut flour). Adding coconut oil with your coconut flour is a great way to retain moisture!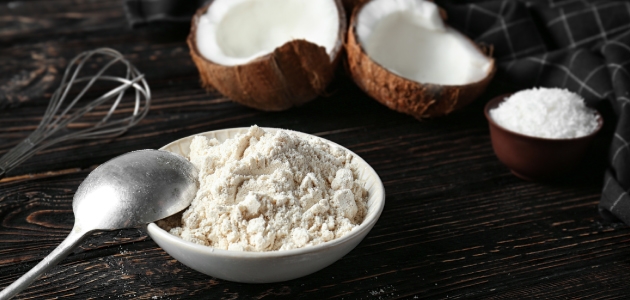 For the best results, it is also recommended to use coconut flour as a replacement for about 20% of the total flour in a recipe. This means if you are baking with almond meal or spelt flour, for example, you can substitute out 20% of one of those flours and add coconut flour instead.
Coconut flour works best in recipes which include eggs. Since coconut flour is free from gluten which helps to bind ingredients together, the egg is needed to replace the gluten and hold your product in place without it crumbling.
You will want to make sure to sift and thoroughly whisk in the flour first before cooking with it since it's prone to clumping!
---
WHERE TO BUY COCONUT FLOUR
Organic coconut flour is available from our online shop and our Alexandria (Sydney) store in 850g, 5KG and bulk 20KG sizes.