What are the different types of flour? Which flour should you use for baking? We've compiled the most common flour questions - take a read for the answers below!
---
WHAT IS THE DIFFERENCE BETWEEN BLEACHED AND UNBLEACHED FLOUR?
Flour is naturally a pale yellow colour when first milled and will lighten with age.
Bleaching flours creates a softer, finer texture and the pure white colour that is commonly associated with flour - forcefully speeding up the aging process. However, bleaching is most often done with chemicals and can strip the natural minerals and vitamins that wheat contains.
Unbleached flour is aged naturally (with fewer or no chemical additives) by being exposed to oxygen over a longer period of time. It has a slightly darker colour than bleached flour and a slightly denser texture.
WHAT IS THE DIFFERENCE BETWEEN CERTIFIED SUSTAINABLE FLOURS AND CERTIFIED ORGANIC FLOURS?
Certified organic flours are made from grains grown and processed without the use of synthetic chemicals, fertilisers or genetically modified organisms (GMOs), with crops solely dependent on crop rotation, green manuring, composting and use of other natural resources.
Certified sustainable flours are made from grains grown using farming techniques that support soil improvement, use natural inputs and promote the long-term sustainability of the environment. These methods may not be 100% organic.
WHAT IS HARD WHEAT?
Hard wheat is a variety of wheat with a protein content of more than 12% and is rich in gluten. This wheat helps create strong and elastic bread doughs.
WHAT IS SOFT WHEAT?
Soft wheat varieties are low in gluten and have a protein content of less than 9.5%. Soft wheat flours are suitable for biscuits, cakes and pastries where a crumbly texture is needed.
HOW DO YOU MAKE SELF-RAISING FLOUR?
Easy!
For each cup of flour, whisk together with 1 1/2 teaspoons of baking powder and 1/4 teaspoon of salt. Make sure to whisk all of these ingredients together well before adding into your baking so that the baking powder and salt are both evenly distributed within the flour.
WHICH FLOUR IS BEST FOR BAKING BREAD?
Try to avoid gluten-free flours when baking bread as the gluten is what helps create the chew and structure we love in a loaf.
Plain all-purpose flour will get the job done and is ideal for most sandwich breads, quick breads or loaves.
Want to make a rustic, sourdough or hearth loaf? Look for a flour with high protein content (above 12%), such as Organic Unbleached White Bakers Flour.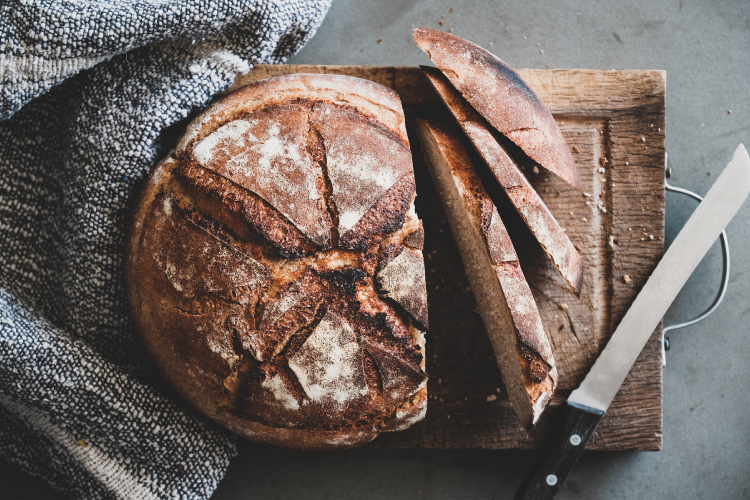 WHAT IS THE DIFFERENCE BETWEEN STONEGROUND AND ROLLER MILLED?
Roller Milling ensures that our flours are of consistently high quality, smooth in texture, and have a more subtle flavour.
Stoneground milling allows for the grain to pass through the mill slowly and at cooler temperatures to preserve the precious essential enzymes and nutrients retained in the whole grain, perfect for all your baking needs.
WHAT IS THE DIFFERENCE BETWEEN WHOLEMEAL AND WHOLEWHEAT?
Just semantics! Wholewheat is the common spelling in the US whereas Wholemeal is used in the UK.
WHAT IS THE DIFFERENCE BETWEEN WHOLEWHEAT FLOUR AND WHITE FLOUR?
Wheat has three parts to it:
Bran—the fibre-rich outer layer
Endosperm—the largest part of the seed that is made up of mostly starch
Germ—the nutrient-rich core of the seed
White flour is made up of only the endosperm portion of the wheat. White flour is fine and light in texture, which is ideal for most baked goods.
Wholewheat flour contains all three parts of the grain, which gives it a slightly darker colour and makes it more nutritious.
HOW DO YOU CREATE A SOURDOUGH STARTER?
Check out our easy step-by-step guide to making a sourdough starter from scratch.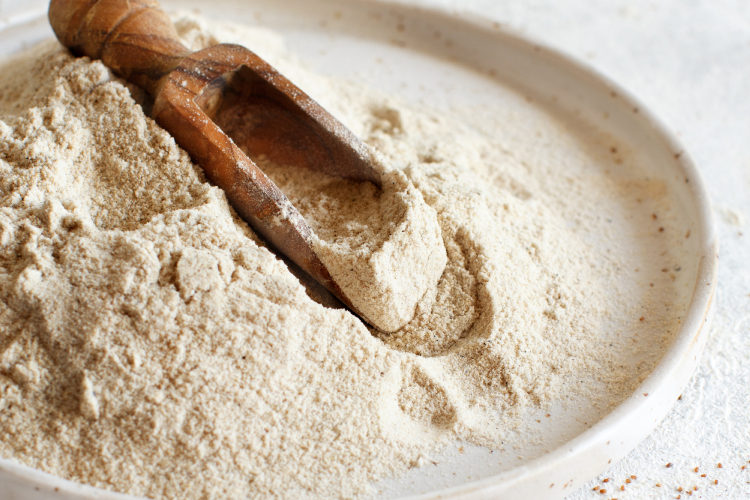 WHAT IS THE BEST WAY TO STORE FLOUR?
Organic flour can last a long time if stored correctly. When you first receive it, put the flour in the freezer for 48 hours to kill any weevil or insect eggs that might be lurking in the package.
Then transfer the flour into a food-grade container (plastic or glass) with a tight lid. This prevents moisture from seeping in and keeps insects and other pests out. It also blocks odours and flavours from other foods or products stored nearby, which could transfer to the flour.
HOW TO STORE WHITE FLOURS
White or refined flours are best kept in an airtight container, in a cool, dry place away from sunlight. White flour keeps up to one year in the pantry under these ideal conditions. For longer storage, or in a warmer climate, stash the flour in the freezer, where it can last for up to two years. Let the flour come to room temperature before you use it for best results, especially when baking.
HOW TO STORE WHOLEWHEAT FLOURS
Wholewheat and other specialty flours have higher levels of natural oils that causes them to go rancid quickly at room temperature. This includes oat, rice, rye and nut flours.
Freeze whole grain flour for 48 hours before you transfer it to an airtight container. Then store it in the refrigerator for up to six months or in the freezer for up to a year. Bring to room temperature before baking.
WHAT TYPE OF FLOUR IS BEST?
Head to our quick guide to flours types and uses to learn which flour is best for your baking endeavour!

LATEST BLOGS
18th Sep 2020
Sweets lovers rejoice! Green Grove Organics creates delicious organic licorice and chocolates a …
7th Sep 2020
After a long, busy day, there's nothing better than a hot bath—especially, a hot bath seeped with mi …
28th Aug 2020
Organic food has been a hot topic for some now, but what really is the difference? And, why should y …