We are proud to be one of 173 Australian businesses who are Certified B Corporations!
B Corporations (aka B-Corps) represent a global movement of over 2000 companies across 50 countries. The certification undertaken by "B-Lab" is a rigorous assessment exploring a company's governance, transparency, environmental and social impact. All Certified B-Corps voluntarily hold themselves to a higher level of accountability in these areas.
Honest to Goodness was first certified as a B-Corporation in 2015 and we have now re-certified for a second term! We demonstrated a commitment to sustainable processes via our supply of over 1000 products including organic and non-GMO food options, providing a huge range of bulk products for minimising waste and the introduction of innovative packaging including BPA Free cans (check out our best selling Organic Coconut Milk and Cream).
We also work directly with many farmers and suppliers to ensure fairer trade standards and we have recently switched our warehouse and headquarters in Alexandria to a source of carbon neutral electricity. Next on our agenda is further research into compostable packaging! Read more about our growers and suppliers here.
From our very beginning 15 years ago, Honest to Goodness has aimed to build a business true to its values and reflect what is important to us. Our vision is to create a healthy, sustainable, better future and one that supports employees, suppliers, community and the environment. We actively support organic and biodynamic farming through our commitment to sustainable agriculture and by expanding the market for organic food products.
We are proud to be driving a new type of business model – using business as a force for good(ness)!.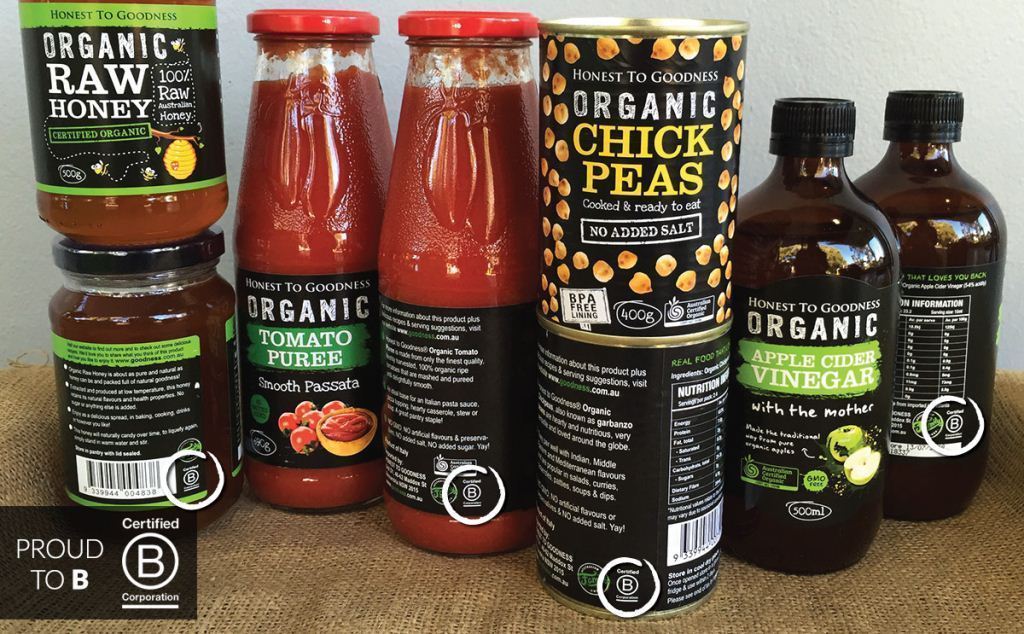 Look out for the B-Certification Logo on these products!
Charlie Syme, B Lab Australia & New Zealand commented on our recent re-certification, "We're so thrilled to have Honest to Goodness re-certify as a B Corp for another term. It's a testament to the whole team for the high standards of transparency, accountability and social & environmental performance that they've maintained while running a successful business. Leaders like Honest to Goodness prove that profit and purpose are not mutually exclusive, in fact, it's a better way to do business."