Need a thoughtful gift on a small budget? Then simply grab a jar (or a few) and fill them with wholesome goodies!
Not only are DIY gifts in jars easy and cost-effective, but they also add a personalised, thoughtful touch to your gift-giving. Here are some fabulous foodie ideas to get you sorted:
---

HOMEMADE COOKIE MIX
Layer a jar filled with all the dry ingredients needed to create scrumptious homemade cookies! Your receiver will simply just need to combine this mixture into a few basic extras.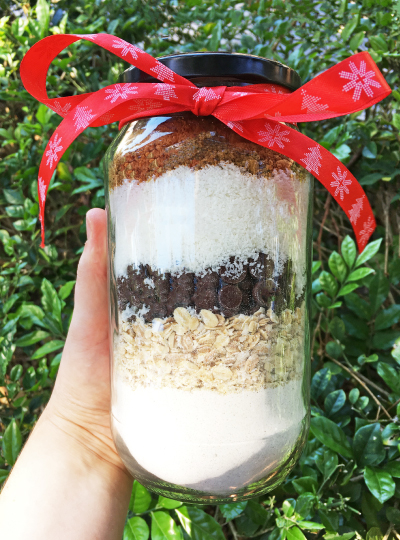 TO MAKE COOKIE MIX
Layer the following ingredients into a 1L jar with a spoon:
1 cup organic wholemeal spelt flour
1 cup organic 5 grain goodness
1 cup organic desiccated coconut
¾ cup organic coconut sugar
½ cup organic chocolate drops
Pinch Himalayan salt
Seal the deal and decorate the jar with a ribbon and/or labels.
TIP: You can personalise the cookie-mix by adding your loved one's favourite flavour combination, or otherwise switch up the idea by creating a cake mix, hot cocoa or brownie in a jar too.
DIRECTIONS FOR GIFT RECIEVER
YOU WILL NEED
¾ cup organic coconut oil
2 tbsp organic raw honey
1 tbsp boiling water
¼ tsp baking soda
METHOD
Preheat your oven to 150°C and line baking trays with baking paper.
Melt the coconut oil and honey together in a small pot over low heat.
Combine bicarb soda and warm water to dissolve, then add this to the coconut oil and honey. Mix well.
Remove from heat and add the dry mixture.
Combine until all ingredients are evenly mixed and it forms a dough that can stick together. If it seems too dry, add a little more water or oil until it just reaches the right consistency.
Spoon 2-3 tablespoons of mixture and form into biscuits using your hands. Press down lightly onto your lined trays.
Bake in the oven until nice and golden around the edges. (Between 20-30 minutes, depending how crunchy you like them!)
Let cool for 30 minutes then enjoy!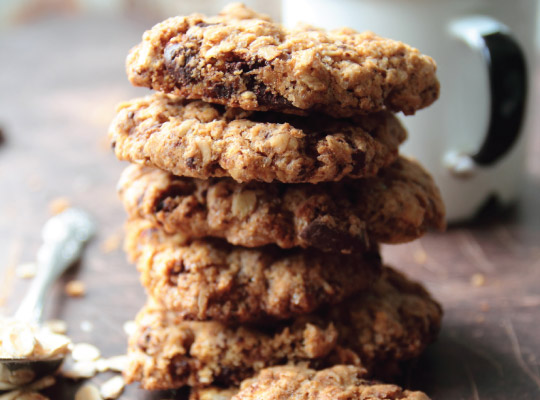 ---
SNACK JAR
Create jars filled with delicious wholefood nibbles that are perfectly healthy for the office or on-the-go.
TO MAKE SNACK MIX
Blend a combination of nuts, seeds, dried fruit and a sneaky few chocolate treats!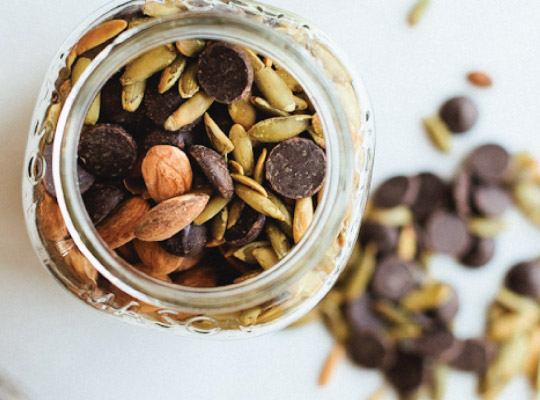 ---
DIY COFFEE SCRUB
Body scrubs can often be pricey! This DIY coffee scrub not only smells delicious but also leaves the skin feeling amazing at a fraction of the price.
TO MAKE COFFEE SCRUB
Simply combine the following:
1 cup coffee grounds
1 cup coconut oil, melted
3/4 cup granulated raw sugar or sea salt crystals
Add to a clean glass jar, screw on the lid and decorate. Volia!
DIRECTIONS FOR GIFT RECIEVER
To use this scrub, stand in the shower or bath and apply to damp skin. Massage into your skin and leave for 5-10 minutes. Rinse of with warm water.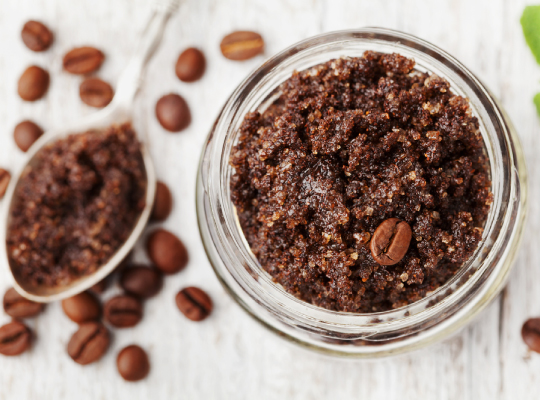 ---
DIY DETOXIFYING & RELAXING BATH SOAK
Nothing is more relaxing than a warm bath! Enhance bath time with this detoxifying bath soak. Using all organic and natural ingredients to help you relax and unwind.
TO MAKE BATH SOAK
Mix the following ingredients and add to a 375ml jar:
1 cup Natural Epsom Salts
½ cup Australian Bentonite Clay
10-20 drops Essential Oil- Sleep Blend
¼ cup Organic Chamomile Flowers
Top the jar off with some chamomile flowers and seal.
DIRECTIONS FOR GIFT RECIEVER
Scoop out about ½ cup and pour into your bath. Soak and Enjoy!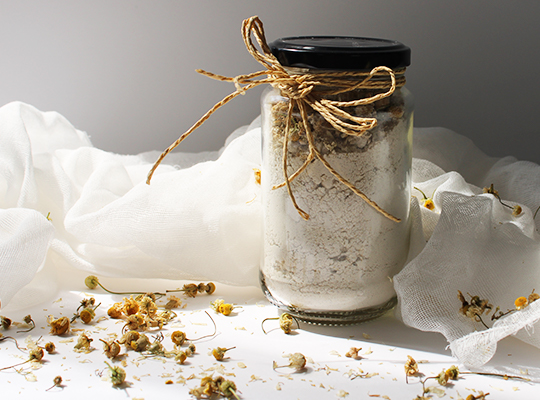 ---
HOMEMADE GRAIN-FREE GRANOLA
A homemade granola makes a delicious breakfast or tasty snack without all the added sugar found in supermarket brands! Granola is easy to make in large batches, and your foodie friends will be delighted to receive one.
TO MAKE GRANOLA
See Granola Recipe on our website >>. Fill up glass jars, seal the deal and decorate with a ribbon and/or labels.
DIRECTIONS FOR GIFT RECIEVER
Enjoy your homemade granola with milk for breakfast, sprinkle top a smoothie bowl or yoghurt, or eat on its own as a yummy snack!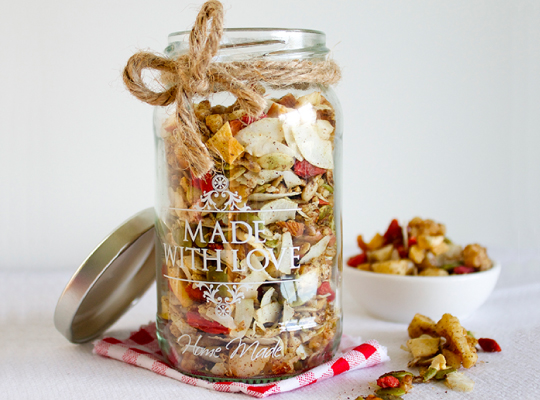 CHOCOLATE JAR
Fill a jar with slightly addictive, organic chocolate coated goodies that will win over any sweet tooth!
TO MAKE CHOCOLATE JAR
Choose from our range of assorted goodies! Or pop into our Alexandria store to shop out our bulk bins or pick up a pre-made jar.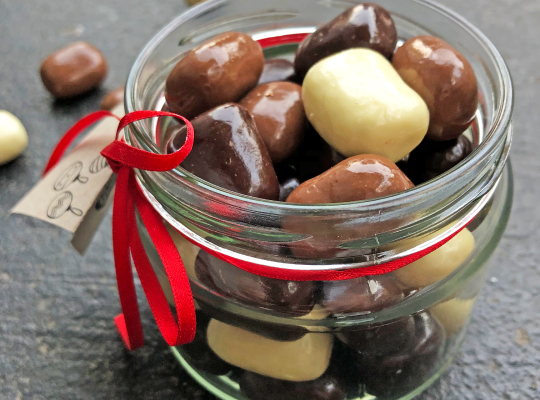 ---

WHERE TO BUY GLASS JARS
Head into our Alexandria (NSW) wholefoods store for food grade glass jars in multiple sizes - we even have some ribbon and stickers for decorating! Alternatively, you can find glass jars at your local supermarket or home décor store.