Popcorn is a fantastic healthy snack when coated with the right ingredients! It is quick to prepare and has a tasty crunch that is popular amongst kids and adults. Our particular variety of organic popcorn kernels has a high hard-starch content that "explodes" through the hull when heated to give excellent popping results!
1/2 a cup of popcorn kernels creates about 10 cups once it is all popped - that is enough popcorn to fill one big bowl! Grab your friends and family (or just yourself...) and dive into these light and airy puffs anytime of the day.
Want to know how to create perfectly popped popcorn in just 5 minutes? Check out our instructions below:
---
WHAT YOU'LL NEED:
GET POPPING:
To pop, add the oil to a large saucepan or soup pot (make sure it has a lid or you could be in trouble!). Add 3 kernels corn, cover and place over medium-high heat.
When the three kernels pop, add the remaining ½ cup kernels (this lets you know that the oil is hot enough)
Cover the pot and swirl to coat the kernels with oil. Shake the pan constantly to ensure all the corn pops and it doesn't burn.
Continue cooking until the popping slows to less than one pop in 4 seconds. Remove from the heat and you are ready to add your flavours!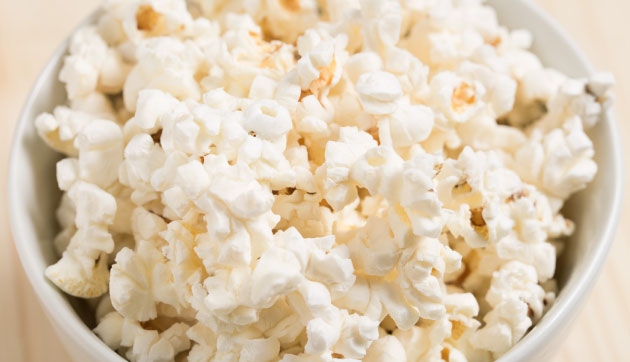 ---
FLAVOUR VARIATIONS
Plain popcorn can be a little boring! Add some 'wow' your popcorn snack with our favourite healthy flavour combinations:
1. CINNAMON, NUTMEG & LUCUMA
Add freshly popped popcorn to a large bowl.
In a small saucepan, melt the coconut oil, 1/2 teaspoon of cinnamon, 1/4 tsp of nutmeg and vanilla. Pour over popcorn and shake to evenly coat.
Dust over lucuma powder, salt and the remaining cinnamon and nutmeg. Gentle shake to distrubute evenly.
Enjoy!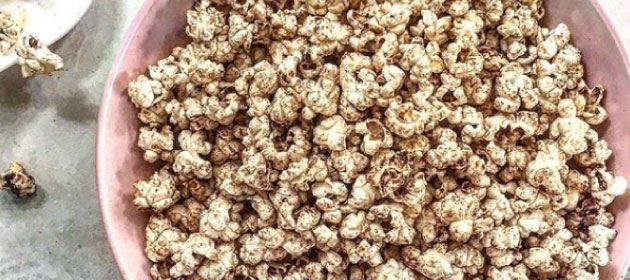 ---
2. TURMERIC SPICED
Combine the spices in a small bowl. Sprinkle over freshly popped, hot popcorn and stir or shake to combine.
Drizzle honey on top right before serving. Enjoy!
---
3. VEGAN 'CHEESY' POPCORN
Sprinkle freshly popped, hot popcorn with nutritional yeast, salt and chilli flakes(if using). Cover, and give it a good shake to combine.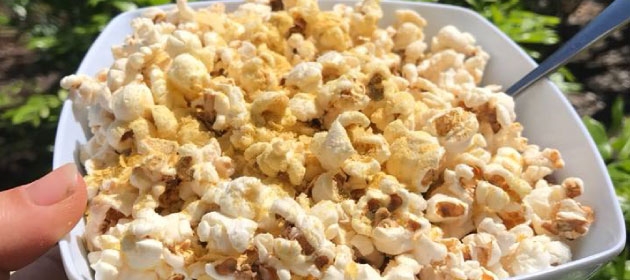 ---
4. MAPLE & CINNAMON
While the popcorn is popping, in a separate saucepan melt the butter over a medium heat until it flecks golden. Add the maple syrup and spices, and swirl to mix.
Tip the popped corn into this buttery mix with a (optional) pinch of salt, cover with a lid and give it a good shake.
---
5. SEA SALT & DARK CHOCOLATE
While the popcorn is popping, toast the nuts, seeds and coconut in a dry pan for a couple minutes. Transfer them to a large mixing bowl and add the popcorn. Sprinkle over the salt.
Line a baking sheet with parchment paper. Using a double broiler, melt the chocolate while stirring constantly. When the chocolate has completely melted, pour it over the popcorn mixture and stir it to coat evenly.
Pour the mixture out onto the parchment lined baking sheet and spread it out evenly. Place it in the fridge for about 15 minutes to allow the chocolate to harden. Enjoy!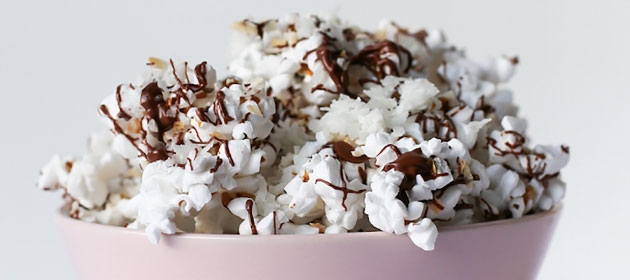 ---
6. SALTED CARAMEL
For the caramel sauce: add all ingredients except the popcorn into a saucepan and bring to a boil. Once boiling, reduce to a simmer and simmer for 25 minutes.
Once caramel is done simmering, stir consistently for 5 additional minutes, allowing caramel to thicken. Pour caramel in a jar or cup and set aside to cool slightly.
Pour caramel sauce over top of freshly popped popcorn and stir everything together with a large spoon or spatula. Eat immediately or leave the caramel to cool and harden. Enjoy!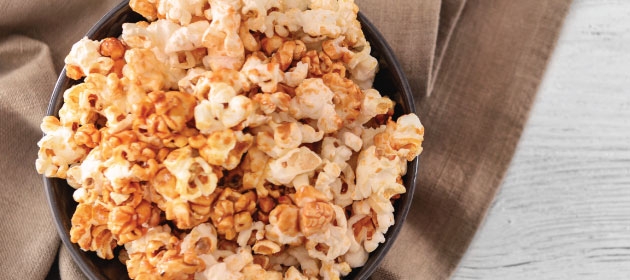 ---
7. ALMOND & VANILLA
Preheat oven to 160 degrees.
In a food processor, combine the coconut oil, dates, vanilla, almonds, and water. Process until smooth, scraping down the sides as needed.
Pop popcorn using your desired method.
In a large bowl, combine the popcorn with the sauce. Transfer to a tray and bake for 8 to 10 minutes, stirring every 2 minutes. The popcorn is done when all the pieces are no longer soggy.
Cool on a wire rack, then store in an air-tight container.
---
8. MATCHA & DARK CHOCOLATE
Prepare the popcorn as directed above.
Combine the dark chocolate and coconut oil in a small saucepan, and melt over low heat, stirring constantly.
Sprinkle the matcha powder over the popcorn and stir until the popcorn is well-coated.
Drizzle the melted chocolate over the popcorn and sprinkle over the cinnamon & salt. Eat immediately or chill in the fridge for 10 minutes to let the chocolate set.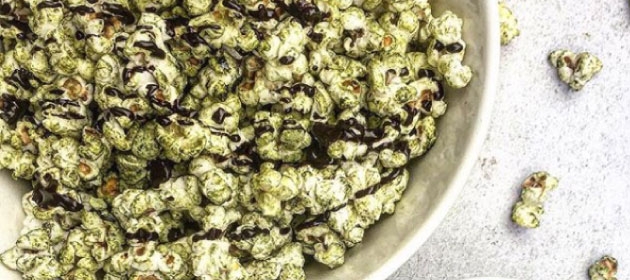 ---
9. COCONUT CURRY POPCORN
While hot and freshly popped, add the coconut flakes, coconut oil, curry powder, and ginger powder to the popcorn in a container with a lid. Cover and shake vigorously until popcorn is well coated (10-15sec).
Serve immediately and enjoy!
---
10. VEGAN HERB & CHEESE POPCORN
Heat 1 tablespoon of the oil in a small pan over medium heat. Once it starts to shimmer, sprinkle in the oregano, dill, thyme and chilli flakes, then turn off the heat so the herbs and can infuse the oil for at least 15 minutes.
Pop the popcorn, while it is still warm, drizzle the oil mixture over it and shake to coat the popcorn.
Drizzle on the remaining 1 tablespoon of oil, sprinkle on the nutritional yeast,and shake again to combine. Taste, and add salt if needed.
---
11. SALT & VINEGAR
Add ingredients while popcorn is still hot and stir to combine.
For extra crunch put under the grill for 5 minutes
---
12. HONEY BUTTER
In a small saucepan, melt the butter over medium heat. Stir in honey until well mixed. Remove from the heat.
Pour the honey butter mixture over fresh popcorn, and mix until evenly coated. Give it a taste then add salt to taste.