Don't let the Winter cold and flu season get the better of you this year! Try some of our healthy goodness tips below to avoid any nasty sickness symptoms, remain energised and vibrant from the inside out...
---
Boost Your Vitamin C Rich Foods
Vitamin C is a fantastic nutrient which has many important functions in the body including;
Building and maintaining mucous membranes and collagen
Strengthening blood vessel walls
Potent antioxidant, preventing any free radical damage
Vitamin C enhances function of immune cells and therefore may help reduce the duration of colds. Boost your Vitamin C intake with fantastic ingredients such as Organic Baobab Powder, Incaberries and Finger Lime Powder, as well as other fresh foods like: citrus fruits, kiwi fruits, red capsicum, parsley, melons, berries & broccoli!

---
Don't Hold Back on the Garlic & Ginger!
Both garlic and ginger not only add great flavour to any dish but also have potent anti-bacterial, anti-viral and anti-microbial properties! This makes them fantastic agents in fighting off any of those nasty bugs which may try and invade in the winter months! Fresh chilli also contains 'capsaicin,' a substance that can help break up nasal and sinus congestion.
---
Don't Forget to Stay Hydrated
Although a glass of water may be the last thing you feel like on a cold winter day, it can often be the best thing. Your body needs plenty of fluids to rehydrate your dry skin and membranes (especially when sitting in ventilated offices)
During a cold or flu, increase your water intake to around 10 glasses a day to replenish lost fluids, keep mucous membranes moist and loosen phlegm.
---
Warm Yourself Up with Herbal Teas
Herbal teas not only warm you up from the inside, but many of them contain many nutrients which help to boost your immunity!
---
Sweeten Up with Manuka Honey
Manuka Honey is well known for its anti-bacterial and healing properties (methylglyoxal, is the naturally occurring anti-bacterial compound in Manuka). It can be used to give relief to a range of cold and flu symptoms, and can also be applied topically to skin conditions. Use and enjoy Manuka honey as you would regular honey.
---
Get Those Soups Going!
Soups are a fantastic way to create a warming and nutrient dense dish, which is also easy to digest. Turn on your slow cooker in the morning; throw in as many colourful vegetables as possible, plus your immune boosting herbs and spices, to create the perfect winters night meal. Plus you can freeze the left over's for lunches throughout the week, easy! Try our Organic Red Lentil Soup recipe!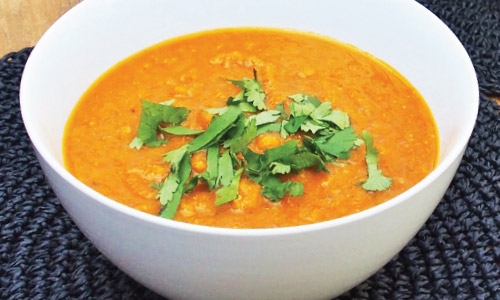 ---
Moderate Exercise
Many of us spend most of the winter feeling tired and lethargic. However, taking a daily walk or maintaining a healthy exercise regime, can help boost your energy levels and your immune system, to help you fight off any infections!