We all know breakfast is the most important meal of the day. Starting your morning with a healthy, nutritious and filling meal will set you up for the rest of day, giving you enough energy and brain power to complete all your tasks. Sometimes it can be hard to have a sit-down breakfast in our fast-paced modern world, so we have gathered our favourite healthy breakfast ideas that you can grab and eat on the go!
These recipes are perfect to prepare within 10 minutes or the night before to save time in the morning:
---
1. TOAST WITH TOPPINGS
Simply adding a dollop of jam to a piece of toast is not going to give you a satisfying breakfast. Adding more ingredients to your toast will not only make for a scrumptious bite, but fill you up with healthy fats and protein which will satisfy you for longer.


Our favourite topping are Avocado, Organic Black Tahini, Organic Chilli Flakes and Nutritional Yeast Flakes

or Banana, Organic Peanut butter, Organic Chia Seeds, and Organic Hemp Seeds

---
2. BREAKFAST BENTO BOX
Pack all your favourite ingredients into one container for a flavoursome meal on the go. Prepare the night before or incorporate your left overs from dinner. Jax Cave created this bento box with rosemary & garlic mushrooms, tomatoes marinated in Organic Coconut Aminos & Organic Extra Virgin Olive Oil, soft boiled eggs, avocado, sautéed kale and rainbow chard, & coriander. Eat with some bread and feel full until lunch!
---
3. VANILLA AND HEMP CHIA PARFAIT
Chia Seeds are high in omega 3 & 6, also known as healthy fats. Simply make the night before, then grab and go in the morning.
Vanilla and Hemp Chia Parfait Recipe >>
---
4. OVERNIGHT OATS
Prep your overnight oats the night before and simply grab your jar and go! Oats are full of fibre and plant-based protein which will keep you going all morning. It's easy to switch up your oats flavour combinations so you won't get board of the same thing.
Head to our blog How to Make Overnight Oats for 5 delicious flavour combinations >>
---
5. EGG & VEGGIE MUFFINS
Just like a frittata but in an easy to eat muffin form, these muffins pack in a lot of eggy goodness and are a great way to eat your veggies too!
For a non-vegetarian version, try our Spinach, Zucchini and Bacon Muffins >>
---
6. STRAWBERRY & CASHEW CREAM STUFFED BREAKFAST MUFFINS
A couple of these delectable muffins are perfect to grab as you're running out the door for a wholesome and delicious breakfast on the go. The muffin batter is filled with oats, nuts and eggs – all your typical breakfast ingredients, just in a new and wonderful form.
Strawberry and Cashew Cream Stuffed Breakfast Muffins >>
---
7. PICK N MIX BREAKFAST COOKIES
The best part about these cookies is that you can use whatever you have available in your pantry to create them! These nutritious cookies are delicous and bite-sized, great for a quick morning pick me up.
Pick N Mix Breakfast Cookies Recipe >>
---
8. ORGANIC SPELT BANANA BREAD
A convient and comforting breakfast that will give you plenty of energy for the morning ahead. Just one loaf of Banana Bread can last you through the entire week. Try topping your slice with some Organic Raw Honey and ricotta for added protein!
Organic Spelt Banana Bread Recipe >>
---

9. SMOOTHIE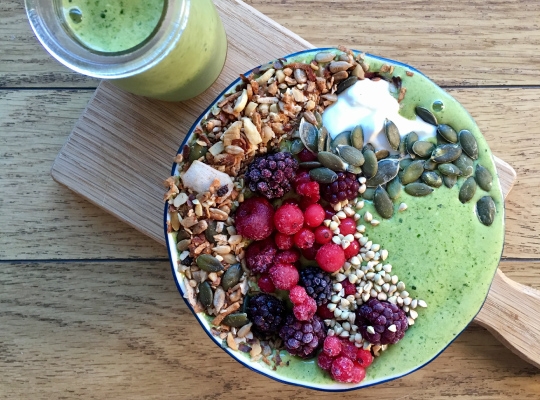 A smoothie is a great way to pack in a bunch of different superfoods, nuts, seeds, fruits and vegetables. You can pre-cut your fruit and vegetables, and store them in a container in the freezer until you need it.
---
10. HOMEMADE MUESLI BAR
A muesli bar is fantastic for packing in a lot of nuts and seeds, and is ideal for busy mornings. Store bought muesli bars can contain high amounts of processed sugars and additives so creating your own means you can add the healthy ingredients you want.
Seedy Fig and Nut Choc Bars Recipe >>
Puffed Buckwheat and Almond Butter Bars Recipe >>
LATEST BLOGS
17th Feb 2020
You have probably heard of Magnesium - it's a common mineral found in the earth, sea, plants, anim …
17th Feb 2020
Magnesium is a macro-mineral that is involved in a wide range of processes in our b …
10th Feb 2020
There is a climate crisis. And we know that to slow down the effects of this crisis, we cannot co …