From Kakadu Plum and Quandong to Lemon Myrtle and Wattleseed, Australian superfoods are truly unique, nutritious and vitamin-rich ingredients that have been growing in the native Aussie bush for over 50,000 years!
But what exactly are these funny ingredients and why are they so special? Use our easy guide below to help you choose the right superfood to try next!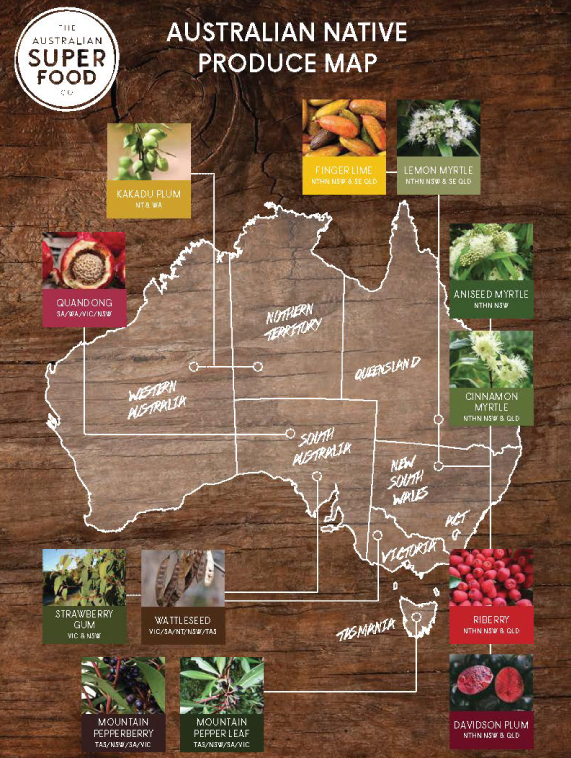 ---
DAVIDSON PLUM
Health Benefits
An excellent source of potassium, Vitamin E, zinc & calcium.
An antioxidant powerhouse, containing high levels of anthocyanin, which is thought to improve cognitive function and protect against certain cancers and heart disease.
Contains significantly more lutein than an avocado (thought to be the primary source of lutein). Lutein is a carotenoid vitamin that plays an important role in eye health.
Contains properties believed to have anti-diabetic effects and a capacity to reduce hypertension and obesity.
Taste and Smell
The Davidson Plum has an earthy aroma, reminiscent of rosella jam and stewed rhubarb with musk and a touch of sweetness. The taste is tart with some astringency and a slight bitterness.
Food Uses
Due to the intense acidic flavour and low sugar content, the Davidson Plum is not often eaten as fresh fruit. However, the tart and intense fruity flavour lends itself to be used in a range of sweet and savoury dishes, including cakes, jams, sauces, yoghurt and ice-cream.
Davidson Plum Lamington Protein Balls >>

---
FINGER LIME
Health Benefits

Rich in folate, potassium and Vitamin E.
Each Finger Lime contains three times the Vitamin C found in a mandarin.
Taste and Smell
With a delicious aroma of fresh citrus and a hint of cooked apples, the taste of the Finger Lime is tart and zesty with some astringency and bitterness.
Food Uses
With its refreshing citrus lime flavour, Finger Lime can also be used in dressings, jams and sauces, cordials and cocktails. It can substitute for ordinary lemon or lime, wherever they are used. Freeze Dried Finger Lime is also an interesting addition to dukkah.
Finger Lime & Sweet Sesame Tuna Sashimi Bowls >>

---
KAKADU PLUM
Health benefits
Highest recorded levels of Vitamin C of any fruit in the world, measuring up to 100 times the Vitamin C content found in an orange.
Exhibits outstanding antioxidant capacity, being 5.2 times more potent than the blueberry.
Natural antibacterial, antifungal and antiviral properties.
Good source of iron, Vitamin E and folate.
Taste and Smell
The taste of the fruit is tart with a delightful aroma of stewed apples and pears, with some cooked citrus, pickled and floral musk essence. Some say the fruit looks and tastes like an English gooseberry.
Food Uses
Freeze dried Kakadu Plum is commonly used as a nutritional supplement in health foods.
Kakadu Plum & Mango Infused Ginger Tea >>

---
LEMON MYRTLE
Health Benefits
The most concentrated source of plant citral. Citral contains powerful antimicrobial and antifungal properties, which are even superior to those found in the renowned tea tree oil.
A great source of antioxidants and phytochemicals.
An excellent source of calcium, folate, Vitamin A, Vitamin E, zinc and magnesium.
Taste and Smell
Considered the "queen" of the lemon herbs, Lemon Myrtle is undoubtedly one of the most popular Australian native herbs. It has a fresh aroma of citrus, with delicate menthol essence and a strong lemon flavour, which is sweet and refreshing.
Food Uses
In cooking, Lemon Myrtle can be used in both sweet and savoury dishes. The leaves can be substituted for bay leaves, in marinades, soups, stews, casseroles and roasts. The flavour is intense, but used sparingly (like a bay leaf), will complement chicken, lamb, kangaroo and beef dishes delightfully well.

---
QUANDONG
Health Benefits
Contains twice the Vitamin C of an orange.
A wonderful source of Vitamin E, folate, magnesium, calcium, iron and zinc.
A rich source of antioxidants.
The kernel contains a range of complex oils and is recognised for its antibacterial and anti-inflammatory qualities.
Contains Rutin, a strong antioxidant that can reduce free radicals. Rutin works with Vitamin C to strengthen capillaries, reduce dark circles under the eyes and strengthen the skin from the effects of aging.
Taste and Smell
A sweet, peachy taste with a balancing slightly sour and salty aftertaste, Quandong has a mild aroma of dry lentils with some earthy fermented touches.
Food Uses
Dried Quandong can be used in a range of tantalizing desserts and sweet treats.

---
RIBERRY
Health Benefits
Three times the folate of a blueberry. Folate is needed for healthy growth and development and is essential for the healthy development of a baby during pregnancy.
Rich in manganese and calcium.
Contains high levels of anthocyanin, a potent antioxidant that is thought to improve cognitive function and protect against certain cancers, heart and Alzheimer's diseases.
Taste and Smell
Riberries have a refreshing, spicy flavour, with a hint of clove and cinnamon. They have an aroma of sweet, spiced tea, with musk and bush honey touches.
Food Uses
The Riberry comes from the clove family and its unique flavour works beautifully in sauces, chutneys and jams and complements poultry, lamb, pork and game meats such as kangaroo. The fruit can also be used in salads, vegetable dishes and desserts, such as ice cream, yoghurt and cakes. The subtle Riberry flavour works well with cheeses and can even be infused in vodka to create a magic cinnamon tasting cocktail!
Riberry, Chickpea & Quinoa Salad with Seared Lamb >>

---
WATTLESEED
Health Benefits
Very rich source of protein.
A low glycaemic food, which releases its sugars slowly and can be used by people with diabetes to help maintain blood sugar levels.
Contains high concentrations of potassium, calcium, iron and zinc.
Taste and Smell
Wattleseed has a nutty, roasted coffee aroma, with touches of sweet spice, raisins and chocolate. It has a savoury, nutty, wheat-biscuit flavour.
Food Uses
Wattleseed is a versatile ingredient in the kitchen. It can be used for baking and as a thickening agent in casseroles and sauces. Wattleseed is great in pancakes, scones and even scrambled eggs!
Coconut & Wattleseed ANZAC Biscuits >>
---
ll information sourced from our amazing supplier, The Australian Superfood Co.