This month we're celebrating family favourites, and meals created with simple pantry staples. We asked our Team Goodness foodies to create and share their favourite quick and easy recipes, fit for a family!
Take a look at what we cooked up...
---
TANYA - BANANA CHOCOLATE CHIP MUFFINS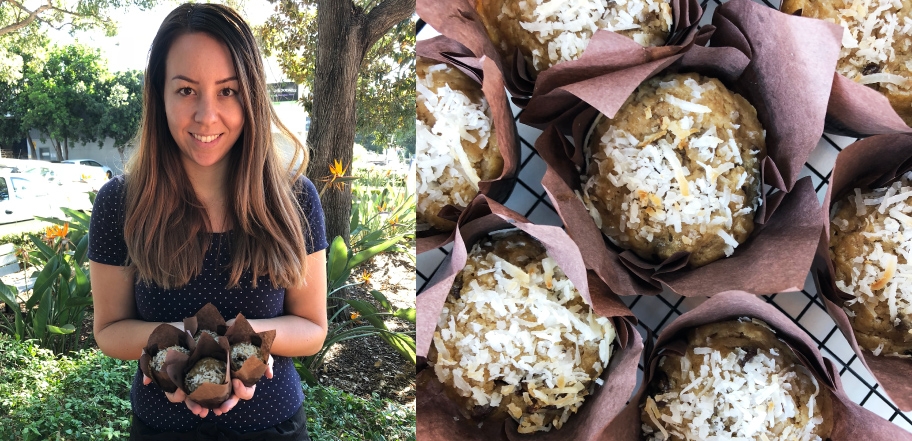 Tanya created these super easy dairy-free Banana Chocolate Chip Muffins. These muffins are a classic that are loved by all, and are a perfect snack or treat any time of day!
Ingredients:
Directions:
Preheat oven to 180 degress.
Mash the bananas in a large bowl using a fork
Add the coconut oil, egg, milk, vanilla and sugar and whisk together.
Add the flour, baking powder and salt. Stir until just combined (do not overmix)
Gently stir in the chocolate chips.
Divide the mixture into a lined muffin tray. Fill each slot about 3/4 full.
Bake for 20-25 minutes. Check muffins with a toothpick.
Transfer muffins onto a rack and cool.
Makes: 14-16 muffins | Prep: 10 mins. Bake: 20 mins
---
ALANA - TOASTED COCONUT CASHEW STIR FRY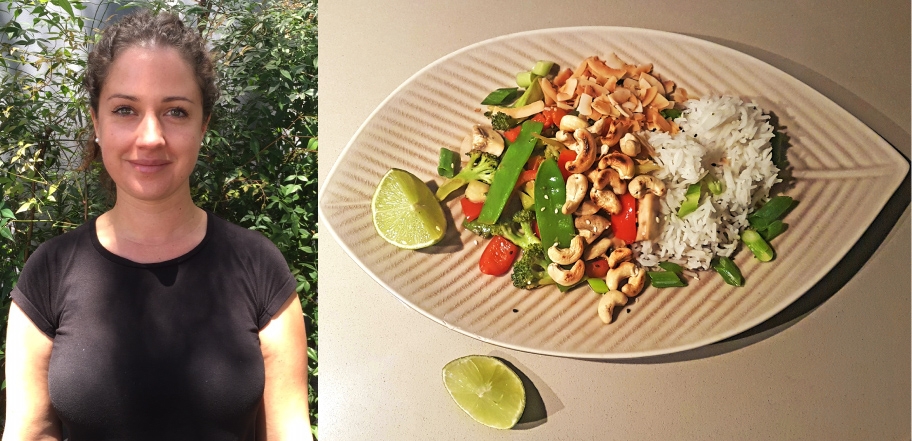 A stir fry is simple meal that can be whipped up in a hurry! Paired with the Coconut Aminos, this Toasted Coconut Cashew Stir Fry by Alana is a super tasty way for the whole family to enjoy their veggies!
Ingredients:
Directions:
Dry fry the cashews in a pan until they turn golden brown. Put them aside for garnish. Juice one lime, set aside.
Spread the coconut flakes over a baking tray and place them in the oven at 180 degrees, until the flakes are golden brown in parts, leaving some of the flake white. Roast for approx 5-10 mins.
Rinse the basmati rice and bring to boil in a saucepan, simmer for approx 10 mins or until cooked to your desired consistency.
In a wok, heat the coconut oil, ginger and garlic for round 30 seconds to release the flavours.
Add your chopped veg of choice to the wok to fry with the ginger, garlic and coconut oil. Slowly add the coconut aminos, lime juice and celtic salt over 5-10 mins, until the flavours taste balanced. The coconut aminos have quite a sweet flavour. More or less salt can be added depending on your preference.
Serve a couple of spoonfuls of rice in a bowl or on a plate and add the stir fried veg. Be sure to drizzle on some extra coconut amino lime juice from the pan, for extra flavour.
Sprinkle some toasted coconut flakes, dry fried cashews and some sesame seeds over the meal for extra crunch and texture.
Enjoy!

Serves: 4 | Prep: 10 mins. Cook: 20 mins.
---
DEE - VEGAN LASAGNA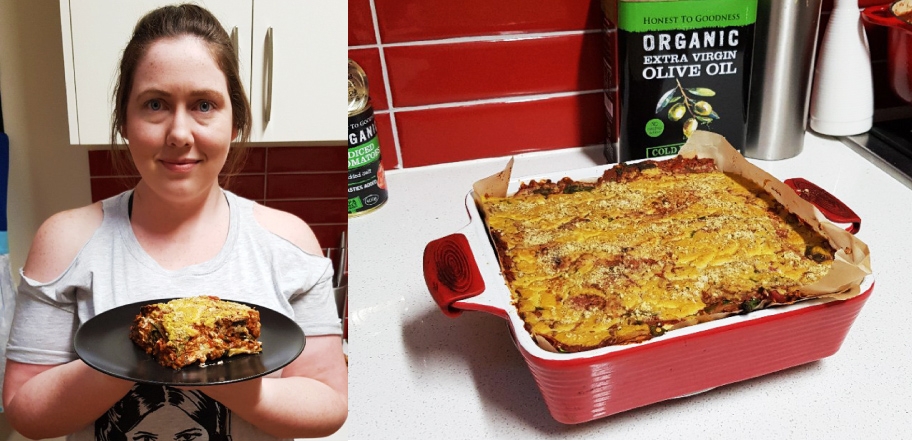 Lasagna is classic dish which Dee packed full of plant-based goodness! This Vegan Lasagna is tasty, wholesome and a great family meal.
Ingredients:
2-3 zucchinis – finely sliced to replace the lasagna sheets
Sauce:
Vegan Ricotta:
Vegan Cheese Sauce:
Directions:
Pre-heat oven to 180 degrees
Dice Eggplant, cover in salt and let sit for 30 min. Rinse thoroughly and pat dry with paper towel.
Heat olive oil in pan, add onion and sauté until translucent
Add eggplant to the pan, add 1Tbsp olive oil to coat, cover and simmer over medium heat for 5 mins or until eggplant is cooked.
Add mushroom and remaining oil, herbs and garlic. Stir well, simmer for 5 minutes
Add diced tomatoes, lentils, tomato paste, chili and salt & pepper to taste. Let simmer for 5-10 minutes
Add wine – let sauce simmer for a further 5 mins/until thickened.
Meanwhile make the vegan ricotta. Blend almonds in food processor until a fine meal – scrape down sides as needed
Add nutritional yeast, basil, oregano, lemon juice, nutmeg, water, salt and pepper and blend until a smooth paste.
Add spoonful's of sauce to base of a lasagna tray. Layer with zucchini ribbons (To replace of pasta), ricotta, sauce, zucchini until finished.
Top with vegan cheese sauce and vegan parmesan (optional – could also use grated macadamia)
Cook for 20-30 minutes (until zucchini is soft)
Serves: 6 | Soak: 8 hrs. Prep: 1 hr. Cook: 20-30 mins.
---
STEPH - ASIAN CHICKEN MEATBALLS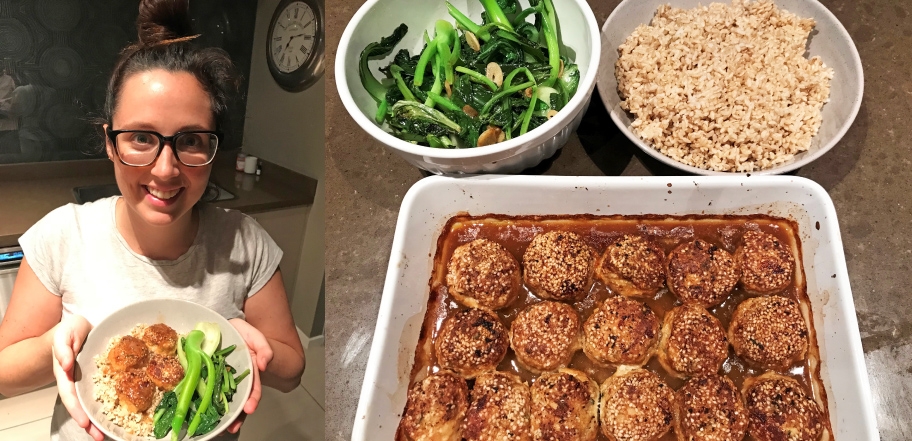 Meatballs are a winner at dinner! Steph's Asian Chicken Meatballs are packed full of flavour to give you a tasty and satifying meal.
Ingredients:
Sauce
Directions:
Combine mince, onion, water chestnuts, garlic, coriander, coconut aminos, tamari, oyster sauce, sesame oil, almond meal and egg in a bowl. Pour sesame seeds onto a plate. Form 1 tbsp of mince mixture into a ball and roll in the sesame seeds. Repeat with remaining mixture.
Pre-heat oven to 180*C. Heat half the peanut oil in a large frying pan over medium heat. Brown the meatballs in batches.
Transfer meatballs to a 2L capacity baking dish.
To make sauce, combine sauce ingredients in a microwave safe bowl. Heat for 1 minute, stiring halfway through.
Pour sauce over the meatballs, cover and bake in oven for 30 minutes.
Steam or stirfry Asian greans with thinly sliced garlic.
Divide rice and green among serving bowls. Top with meatballs and sauce to serve.
Serves: 6-8 | Prepare: 15 mins. Cook: 30 mins.
---
KATHRYN - CINNAMON & ALMOND APPLE CRUMBLE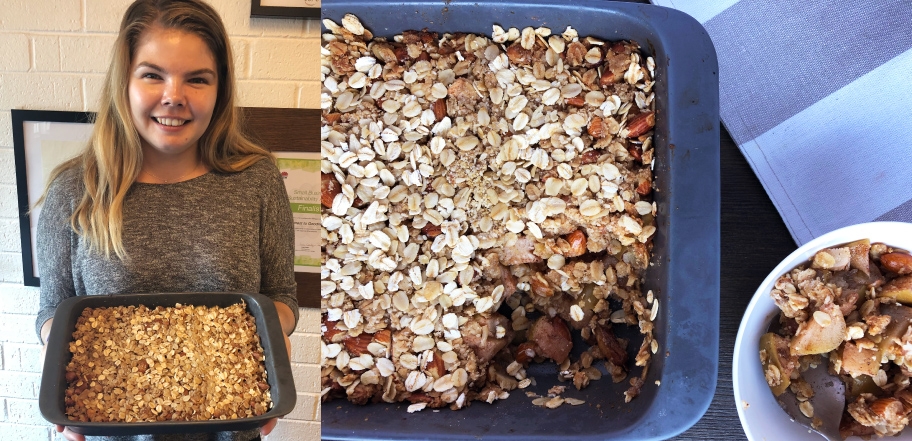 What better way to finish off a family dinner than with a sweet and tart Cinnamon & Almond Apple Crumble! This family favourite is preped in mintues and can left in the oven to bake while you're eating dinner. Kathryn's version is dairy, wheat and refined sugar free.
Ingredients:
Filling:
Crumble Topping:
Directions:
Preheat oven to 180 degrees. Peel apples and dice into cubes of approximately equal size. In a large bowl, toss with maple syrup, water, and cinnamon. Pour apples into greased baking dish.
In the same (now empty) bowl, add oats, almond flour, nuts, cinnamon, salt, coconut oil or butter, and maple syrup. Stir crumble topping together and pour into baking dish on top of apples.
Bake for 40 to 45 minutes until apples are soft, covering pan loosely with aluminum foil halfway through to prevent from over-browning.
Serve hot with vanilla ice cream or coconut yoghurt.
Serves: 6 | Prep: 20 mins. Cook: 25mins.